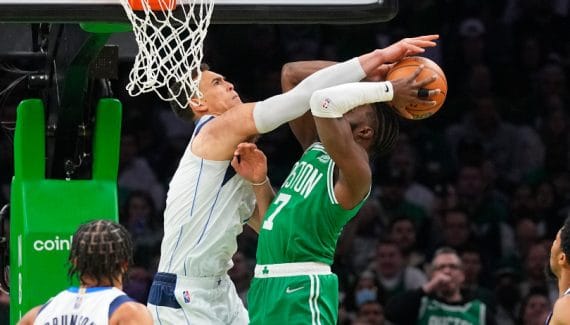 Before going to slam the poster of the evening on Maxi Kleber, Jaylen Brown ran into a wall earlier in the match: Dwight Powell. This one, after two minutes of play, countered the Celtics winger who was preparing to go to the circle with two hands. A remarkable defensive gesture at the heart of a discreet evening for him (4 points, 3 rebounds and 2 assists) on the Boston floor.
Two days earlier in Houston, the interior had been much more demonstrative in attack with its 26 points (9/11 on shots), a career record equaled, and 12 rebounds captured. It was the first double-double of the season for this player who does not run after statistics.
His own thing is rather to " play hard every night " and " to take advantage of the opportunities that arise ". While Luka Doncic remains the master of the team, supported by his offensive lieutenants Spencer Dinwiddie and Jalen Brunson, Dwight Powell is the shadow player busy taking the blows in the racket.
" I wouldn't be surprised ", assures the 30-year-old player, when asked if he is arguably the player who takes the most hits in the face in the league. " It's more than once a game, it's crazy ", completes Luka Doncic about his teammate who has already lost several teeth on the way.
A Rockets fan is shouting at Dwight Powell for flopping, and I feel like someone should inform this dude that Dwight Powell doesn't need to pretend to take an elbow to the face every night.

— Callie Caplan (@CallieCaplan) March 12, 2022
His internal activity is all the more essential today to the Mavs because they preferred to transfer Kristaps Porzingis a few weeks ago, during the "trade deadline". While Marquese Chriss (knee) has been on the sidelines for a month, Maxi Kleber and him have the responsibility of holding the Texas racket. No small feat against some league giants, heavier and taller than him (2.08 meters and 108 kilos).
" He is one of our most physical players, he is the one who fends off a lot of big guys. He's in the weight room probably more than anyone in the league. I see him spending a lot of time in there, so I'm sure he can take it ", displays despite everything Trey Burke.
" He sets up screens for us, he runs, he defends. You won't see him in the stats sometimes but he always gives it his all ", greets his Slovenian teammate, delighted to want to count on soldiers like Dorian Finney-Smith and him.
Especially if the latter, the only Mavs player to have played all the games this season, can increase his volume in attack. In his last seven matches, he has averaged 12 points and 6 rebounds in 25 minutes of play. While converting… 67% of his shots!
https://www.youtube.com/watch?v=ayTqKI6xjbM
Dwight Powell
Percentage
Bounces
Season
Team
GM
Minimum
Shots
3 points
LF
Off
Def
Early
pd
party
Int
bp
CT
Points
2014-15*
All Teams
29
8
46.3
27.3
75.8
0.6
1.1
1.7
0.3
1.4
0.3
0.4
0.2
3.1
2014-15*
DAL
24
10
43.5
27.3
77.4
0.8
1.3
2.0
0.4
1.6
0.3
0.4
0.3
3.4
2014-15*
BOS
5
2
80.0
0.0
50.0
0.0
0.2
0.2
0.0
0.2
0.4
0.4
0.0
1.8
2015-16
DAL
69
14
49.3
12.5
73.9
1.2
2.7
4.0
0.6
1.7
0.5
0.6
0.4
5.8
2016-17
DAL
77
17
51.5
28.4
75.9
1.2
2.8
4.0
0.6
1.8
0.8
0.4
0.5
6.7
2017-18
DAL
79
21
59.3
33.3
71.9
1.7
3.9
5.6
1.2
2.4
0.9
0.8
0.4
8.5
2018-19
DAL
77
22
59.7
30.7
77.2
1.8
3.5
5.3
1.5
2.6
0.6
0.9
0.7
10.6
2019-20
DAL
40
27
63.8
25.6
66.7
1.9
3.8
5.7
1.5
2.6
0.9
0.9
0.5
9.4
2020-21
DAL
58
17
61.9
23.8
78.2
1.4
2.7
4.0
1.1
2.3
0.6
0.7
0.5
5.9
2021-22
DAL
68
21
65.2
37.1
76.2
2.1
2.5
4.7
1.1
2.7
0.5
0.8
0.4
7.9
Total
four hundred ninety seven
19
57.9
29.7
74.7
1.6
3.0
4.6
1.0
2.2
0.6
0.7
0.5
7.5