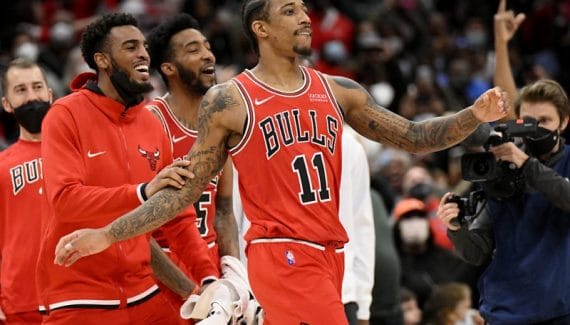 As no candidate has yet killed the competition, the race for the 2021/22 MVP trophy remains very open, as we reach the midpoint of the season. Each of the favorites therefore has its defenders and supporters.
DeMar DeRozan can count on the glowing words of his former coach, Dwane Casey. After years of lobbying for his back in Toronto, especially at the time of the All-Star Game, the Pistons coach is delighted to see him finally achieve unanimity and be among the natural candidates for the most prestigious individual trophy.
"We don't need to do that anymore", having fun Dwane Casey, on convincing others of DeMar DeRozan's talent. "I hope he wins this MVP trophy and I hope he will be among the candidates. He has to be for what he does with his team. I would like him to win all possible trophies, because he deserves it. »
For his 13th season in the league and at the age of 32, the All-Star delivers perhaps his best career season with 26.2 points on average at 49% shooting success and 3% at 3-pts (his record in this domain).
"It's wonderful to watch", book Dwane Casey. "When you remember young DeMar in Toronto, it's beautiful. I'm proud of his development as a player. Everything has slowed down for him, he takes what is given to him. He's almost a magician on the court. He does what he wants with the ball. And it demonstrates his work well, I spend a lot of time with him in Los Angeles, watching him work. He does not look for the light and lets his game do the talking. »
This last sentence could also stick perfectly to another candidate and especially former winner of this MVP trophy: Nikola Jokic.
Because if Dwane Casey believes that DeMar DeRozan deserves some consideration, Michael Malone, he does not appreciate that we forget his pivot, also author of a very solid exercise (25.7 points, 14.1 rebounds and 7 assists).
"In terms of media attention, I think he's one of the least respected reigning MVPs", asserts the Nuggets coach, who has already made this style of remarks a few days ago, for ESPN. "If we open a dictionary, at the word regularity, there will be a photo of Jokic. With our injured, it's amazing what he does. »
DeMar DeRozan
Percentage
Rebounds
Season
Team
MJ
Minimum
Shots
3pts
LF
Off
Def
Early
Pd
Fte
Int
Bp
Ct
Pts
2009-10
TOR
77
22
49.8
25.0
76.3
0.9
2.0
2.9
0.7
2.3
0.6
0.8
0.2
8.6
2010-11
TOR
82
35
46.7
9.6
81.3
0.9
2.9
3.8
1.8
2.7
1.0
1.8
0.4
17.2
2011-12
TOR
63
35
42.2
26.1
81.0
0.6
2.7
3.4
2.0
2.6
0.8
2.0
0.3
16.7
2012-13
TOR
82
37
44.5
28.3
83.1
0.6
3.3
3.9
2.5
2.1
0.9
1.8
0.3
18.1
2013-14
TOR
79
38
42.9
30.5
82.4
0.7
3.7
4.3
4.0
2.5
1.1
2.2
0.4
22.7
2014-15
TOR
60
35
41.3
28.4
83.2
0.7
3.9
4.6
3.5
2.0
1.2
2.3
0.2
20.1
2015-16
TOR
78
36
44.6
33.8
85.0
0.8
3.7
4.5
4.0
2.1
1.0
2.2
0.3
23.5
2016-17
TOR
74
35
46.7
26.6
84.2
1.0
4.3
5.2
3.9
1.8
1.1
2.4
0.2
27.3
2017-18
TOR
80
34
45.6
31.0
82.5
0.7
3.2
3.9
5.2
1.9
1.1
2.2
0.3
23.0
2018-19
SAN
77
35
48.1
15.6
83.0
0.7
5.3
6.0
6.2
2.3
1.1
2.6
0.5
21.2
2019-20
SAN
68
34
53.1
25.7
84.5
0.7
4.9
5.5
5.6
2.7
1.0
2.4
0.3
22.1
2020-21
SAN
61
34
49.5
25.7
88.0
0.7
3.6
4.3
6.9
2.1
0.9
2.0
0.3
21.6
2021-22
CHI
34
35
49.1
35.2
85.2
0.7
4.3
5.0
4.7
2.4
0.9
2.1
0.4
26.4
Total
915
34
46.2
28.5
83.4
0.7
3.6
4.4
3.8
2.3
1.0
2.1
0.3
20.4