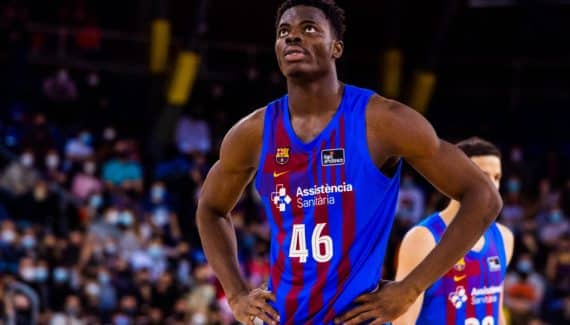 The Draft 2023 registration process is officially closed for all "prospects". While the deadline for whether or not to maintain registration was set for May 31 at 11:59 p.m. for players who played in the NCAA, that for players who played internationally (or in the G-League) is scheduled for this Monday, at 11 p.m.
And among those who had not yet given their official answer, and who therefore confirmed their registration, there is the French leader Nadir Hifi (Le Portel this season), the Nigerian pivot James Nnaji (FC Barcelona) and the Serbian winger Tristan Vukcevic (Partizan Belgrade). All three rather expected in the second round on June 22, they should each know a different trajectory at the start of the school year.
The first, even if he is drafted, will stay in France next season since he has just signed for three seasons with Paris Basketball, where he will try to confirm his good 2022/23 exercise and turn a corner. The second will, a priori, also be a "stash", in Barcelona or elsewhere. A physical phenomenon but an intrinsically still very raw player (2 points and 1.3 rebounds in 6 minutes this season), James Nnaji is certainly not yet ready for the NBA and will greatly benefit from one or more years of additional development on the Old Continent.
Finally, there is the Tristan Vukcevic case. In an incubator in the mythical club of the Serbian capital (1.2 points and 1.2 rebounds in 7 minutes), the young talent would also have everything to gain by continuing to cut his teeth in Europe… but he does not want it! It is indeed what ESPN's Jonathan Givony reportswhich details that the player's side wants the team that will select him for the Draft to pay his "buyout" to Partizan to bring him to the NBA at the start of the school year.
In the last Mock Draft (post-Combine) from ESPNJames Nnaji rises to 23rd place in Portland, Tristan Vukcevic is in 35th position in Boston, when Nadir Hifi is not drafted…
Photo credit: acb.com