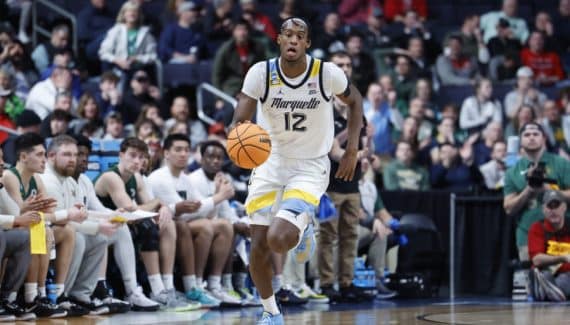 The Draft Combine as a particle accelerator! Like Brandin Podziemski, the winger Olivier-Maxence Prosper is also reaping the rewards of his solid stint in the "Windy City" Draft Combine.
Entered the Draft after a successful "junior" season with Marquette (12.5 points and 4.7 rebounds), the 3/4 position from Montreal had left the possibility of returning to college at the start of the school year. The idea was to test his rating, in particular at the Combine. A conclusive test, since "O-Max" confirmed its registration this Friday.
" After talking with my family and my agents, and evaluating the feedback I received at the Draft Combine, I decided to keep my name in the Draft », he thus declared to ESPN. " I'm ready to move on now. »
In the Draft Combine, Olivier-Maxence Prosper (2m03, 104kg) notably showed off his improving outside shooting (34% last season), but also his significant athletic qualities and his defensive potential with a wingspan measured at 2m16 (!). The qualities of the archetypal modern winger in the NBA, capable of evolving in both positions and ultimately being "all-around".
" Since I left college, I hear questions about the regularity of my shooting. But it's something that I work on a lot, to show NBA teams that I can be effective in 'catch-and-shoot' ", he adds. " And I can be versatile. If some still doubted it, I gave them confirmation that I am able to contribute in many ways, on both sides of the pitch. »
Ranked 32nd on the board of ESPN Draft analyst Jonathan Givony, the former Golden Eagle therefore seems to have secured a selection in the Top 35, at least, on June 22. A selection in the first round is even now completely possible. A successful Draft Combine, in short.