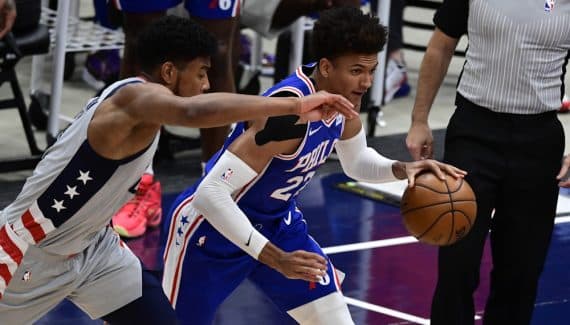 As the season begins tonight, the "deadline" for the extension of the rookie contracts of the players drafted in 2019 was set for Monday, 6 p.m. in the United States (New York time) and therefore midnight in France.
Unlike Zion Williamson, Ja Morant, RJ Barrett, Tyler Herro or Jordan Poole, Brandon Clarke, Nassir Little and Kevin Porter Jr. in recent days, other "big names" in the 2019 vintage have failed to find common ground with their respective leaders.
Are thus concerned Matisse Thybulle, Grant Williams, Cam Johnson, P. J. Washington and Rui Hachimura. Via a "qualifying offer" from their managers, the five wingers will therefore be "protected free agents" in the 2023 off-season. This means that their respective franchises will be able to match any external offer, as was the case. this summer from the Suns with Deandre Ayton, who had accepted an offer from the Pacers.
Matisse Thybulle had "quick talks" with the 76ers, but it seemed unlikely that a deal would be struck at the last minute. Ditto for Grant Williams since the most recent information on this subject announced that an agreement was also far from being found.
On the other hand, it is a little more surprising for Cam Johnson, who nevertheless seems well integrated into the Suns project and he has even secured the starting position on position 4 for this season. Perhaps its leaders are waiting to see its performance in this new role, before making a decision about its future.
For PJ Washington and Rui Hachimura, it's ultimately a logical outcome, since the Hornets and Wizards are in pretty awkward positions in the soft underbelly of the East, and they certainly prefer to wait and see what their exercise will be like. 2022/23, before releasing the checkbook for their young wingers.
The list of the first rounds of Draft 2019 not extended
Coby White (Bulls), 7th choice of the Draft 2019
Jaxson Hayes (Pelicans), 8th choice
Rui Hachimura (Wizards), 9th pick
Cam Reddish (Knicks), 10th pick
Cam Johnson (Suns), 11th pick
PJ Washington (Charlotte), 12th pick
Romeo Langford (Spurs), 14th pick
Nickeil Alexander-Walker (Jazz), 17th pick
Goga Bitadze (Pacers), 18th pick
Matisse Thybulle (Sixers), 20th choice
Grant Williams (Celtics), 22nd choice
Darius Bazley (Thunder), 23rd pick
Dylan Windler (Cavaliers), 26th pick.