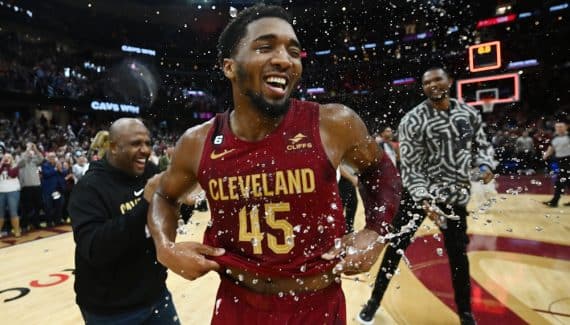 Since Kobe Bryant, no one had scored so many points in a game! Tonight, Donovan Mitchell made history through the front door by planting 71 points to snatch victory against the Bulls (145-134 ap). He does it with style since it is he who snatches the extension three seconds from the buzzer. How ? By deliberately missing his throw, then snatching the offensive rebound to then score with an ultra-complicated shot in the middle of the scrum. He is already at 58 points, but we haven't seen everything yet…
In overtime, the former Jazz back is possessed, and he scores 13 points in five minutes to bring his total to 71 points and above all lead the Cavaliers to victory. And to think that he had only scored five points in the first quarter… and that the Cavaliers were trailing by 21 points in the 2nd quarter!
WHAT YOU MUST REMEMBER
The 7th player with 70 points and more. Before Mitchell, only six players had reached the 70-point mark. They are Wilt Chamberlain (100 points), Kobe Bryant (81), David Thompson (73), David Robinson and Elgin Baylor (71) and Devin Booker (70).
Personal records. Mitchell is not satisfied with exploding his record of points since he equals his record of assists (11), and he breaks his personal records in free throws with 20 successes out of 25 attempts. Thanks to his cardboard, he is the best scorer in the NBA!
THE REACTION
"I think I've had a game like this before on NBA2K, but I don't think I've been that good. And again, it was in defeat… I'm speechless. Not just because of what I did, but because I did it to get us back into the game and win. It's crazy ! » D.Mitchell
TOPS/FLOPS
✅Donovan Mitchell. 71 points, 11 assists and 8 rebounds in 50 minutes. The basket to snatch the extension. The 13 points in this same extension. What Else?
✅ Jarrett Allen. In the "money time", it is he who supports Mitchell to achieve the impossible.
⛔The Bulls defense. The "Big Three" of Chicago did the job in… attack. On the other hand, the defense was catastrophic in the second half. Boulevards and a lack of aggressiveness weighed down and erased the beautiful first half.
THE FOLLOWING
Cleveland (24-14) : reception of the Suns on Wednesday.
Chicago (16-18) : trip to Philadelphia on Wednesday.
Cleveland

/

145
Shots
Bounces
Players
Minimum
Shots
3 points
LF
O
D
T
pd
party
Int
bp
CT
+/-
Points
Rating
K.Love
38
4/10
3/9
1/2
1
16
17
2
6
0
1
0
+6
12
23
L Stevens
19
2/5
0/2
0/0
0
1
1
2
0
0
0
0
-6
4
4
J.Allen
39
9/10
0/0
3/6
6
2
8
2
4
0
1
1
+11
21
27
C.LeVert
39
2/13
1/7
5/6
0
5
5
3
4
1
1
0
+7
10
6
D.Mitchell
50
22/34
7/15
20/25
3
5
8
11
3
0
4
1
+19
71
70
C.Osman
36
6/13
4/11
3/4
0
3
3
4
3
0
1
0
+15
19
17
I. Okoro
20
1/3
1/1
0/0
1
2
3
1
6
0
0
1
+3
3
6
R.Lopez
7
0/1
0/0
1/2
1
0
1
0
1
0
1
0
-3
1
-1
R.Neto
17
2/3
0/1
0/0
1
0
1
2
0
0
1
0
+3
4
5
48/92
16/46
33/45
13
34
47
27
27
1
10
3
145
157
Chicago

/

134
Shots
Bounces
Players
Minimum
Shots
3 points
LF
O
D
T
pd
party
Int
bp
CT
+/-
Points
Rating
P.Williams
30
4/10
2/7
0/0
0
5
5
2
3
1
0
0
-2
10
12
D.DeRozan
46
16/32
2/6
10/12
1
2
3
4
4
4
1
1
-9
44
37
N. Vucevic
44
6/8
2/4
6/7
1
12
13
2
3
0
1
0
-19
20
31
Z. LaVine
40
7/18
3/9
9/9
0
6
6
6
5
0
3
1
-12
26
25
A.Dosunmu
33
4/8
0/3
3/4
0
3
3
5
5
0
1
0
-9
11
13
D.Jones Jr.
22
3/4
0/1
0/0
2
4
6
0
4
0
1
0
-6
6
10
A.Drummond
7
3/3
0/0
0/0
1
3
4
0
2
1
0
0
+5
6
11
G. Dragic
11
1/3
0/1
0/0
0
0
0
1
0
0
0
0
+2
2
1
C.White
10
1/2
1/1
2/2
0
0
0
1
1
1
0
0
-4
5
6
A.Caruso
22
2/7
0/1
0/0
1
1
2
1
6
1
0
0
-1
4
3
47/95
10/33
30/34
6
36
42
22
33
8
7
2
134
149