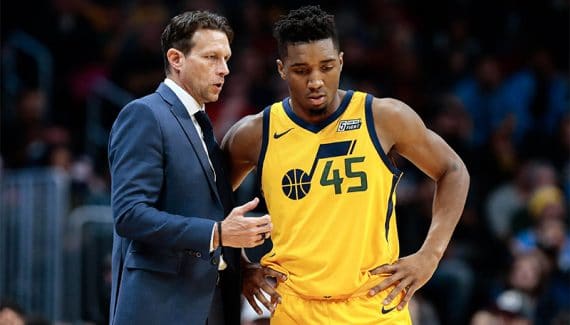 "These losses, and being injured, really changed a lot of things. I had to change some things in my daily way of life. The only thing we realize is that it is not eternal. Your athletic dimension can disappear, just like that. And if she disappears, how can you adapt? How do you grow as a player? I think some of those experiences helped me grow as a human being, as a businessman and as a player."
The painful failures, the wounds but also the passage of time have in turn recalled Donovan Mitchell in order in recent years. In a rather favorable position to join the fight for the title, the Jazzmen have not yet reached the conference final.
Focus on the essentials
This is why every opportunity that will arise during the next playoffs and in the years to come, will have to be approached with the greatest determination. The player has matured on the pitch, but also off it, and he realized that he had to evolve.
"My career is changing. More off the court than in life. I'm starting to mature, to find myself, and to find interests outside the prosecution. I have a long way to go to get where I feel capable of going. But, as long as I'm going in the right direction, I know things aren't always linear. Life has its ups and downs", he told The Athletic. "I'm really at a point where we've reached the second round, and we want more. We crave it. I watched Aaron Donald and Cooper Kupp in the Super Bowl, they found a way to win. So, for me, this is the most important thing. The ultimate goal is for us to be the last team standing at the end of the playoffs".
Murir also allowed him to approach criticism, on his game or his relationship with Rudy Gobert for example, with more detachment, and to take less time and energy trying to change this perception, or what we can think of him.
"People are going to write things. If I have to respond to an article every five minutes, then I distance myself from my teammates, and I distance myself from my happiness," he added. "I love this team, and we want to find a way to win collectively. I am focused on my team. As long as my teammates and my coaches know my intentions, then that's fine with me. But I'm not going to let articles distract me from my main objective. I like this group. So let's find a way to make it happen".
Stung by the adventures of January
If he could not participate in the All-Star Game due to a respiratory disease (unrelated to Covid), Donovan Mitchell did not lose sight of the challenge to come on this second part of the season, especially after this very sluggish start to the year 2022 from the Jazzmen (12 defeats out of 17 games in January).
With the conviction that success will only come through a strong collective and individual effort.
"Our burden is enormous. We have to be at our best level so that we can make another leap forward. We have to be at our maximum as players. January was such a revelation. I had never lost like that in my life. Losing can do you a lot of good. We all have to raise our levels of play. No one can replace Joe Ingles. We must therefore put on a good face collectively. We all have to push together and do the best we can."
Donovan Mitchell
Percentage
Bounces
Season
Team
GM
Minimum
Shots
3 points
LF
Off
Def
Early
pd
party
Int
bp
CT
Points
2017-18
UTH
79
33
43.7
34.0
80.5
0.7
3.1
3.8
3.7
2.7
1.5
2.7
0.3
20.5
2018-19
UTH
77
34
43.2
36.2
80.6
0.8
3.3
4.1
4.2
2.7
1.4
2.8
0.4
23.8
2019-20
UTH
69
34
44.9
36.6
86.3
0.8
3.6
4.4
4.3
2.5
1.0
2.7
0.2
24.0
2020-21
UTH
53
33
43.8
38.6
84.5
0.9
3.5
4.4
5.2
2.2
1.0
2.8
0.3
26.4
2021-22
UTH
46
33
45.6
35.1
87.3
0.9
3.3
4.2
5.2
2.4
1.6
2.9
0.3
25.7
Total
324
34
44.1
36.0
83.5
0.8
3.4
4.2
4.4
2.5
1.3
2.8
0.3
23.7