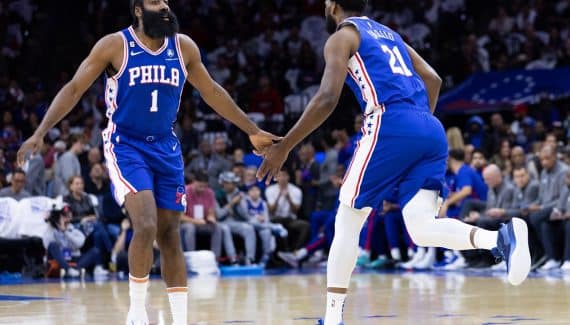 This season, to see a lot of possessions, Philadelphia is not the place to go. With a pace of 97.9 possessions per game, the Sixers are the 26th team in the league, far from the Lakers (103.3) or the Warriors (103), the leaders in this area.
We can also add that the troops of Doc Rivers register only 13.4 points on average in transition, that is to say the 19th total. Clearly, we do not run a lot in Philadelphia and it is an observation that does not really please the coach.
"We have Joel Embiid and James Harden, so we're not going to win the Olympics," compares Doc Rivers for theInquire. "But we can play with good rhythm, movement and cuts. And that helps everyone. »
With Tyrese Maxey missing for some time now, the Sixers have additionally lost a quick and sharp player. The other players must give rhythm, at the request of Doc Rivers who often claims it on the bench. And it's not always easy.
"I'm not saying we're a fast team, but we have to go faster. It makes a big difference." says Doc Rivers. "It took us a long time" recognizes Shake Milton. "As soon as the opponent scores or we take the rebound, we have to look ahead. The player doesn't matter. You have to put pressure on the opponent. »
It's a first blade, a first chance to score for the Sixers. The second comes with the arrival of Joel Embiid and the game then focuses around him.
"We have to get the ball up as quickly as possible to create chances before Joel gets inside," comments James Harden. "When he arrives, we know what we have to do. The players move, get into position and I try to find them. »
If the game slows down with Joël Embiid inside, the movement must not stop. Especially if the defenses double up on the All-Star pivot.
"To be effective, you have to be good at that moment", explains Doc Rivers. "It's the sign of a well-oiled team", notes Matisse Thybulle. "It's a team that knows how to accelerate, who knows when to go fast, then who knows how to slow down too. »
Shots
Bounces
Players
GM
Minimum
Shots
3 points
LF
Off
Def
Early
pd
bp
Int
CT
party
Points
Joel Embiid
19
35.5
53.8
32.3
85.0
1.7
7.9
9.7
4.7
4.1
1.1
1.6
3.3
33.3
Tyrese Maxey
15
36.4
46.2
42.2
73.8
0.4
3.1
3.5
4.4
2.0
1.0
0.3
2.3
22.9
James Harden
13
37.7
43.2
36.2
88.2
0.6
6.1
6.7
10.8
3.7
1.5
0.6
2.1
22.1
Tobias Harris
25
34.4
48.4
40.4
85.4
0.9
5.4
6.4
3.0
1.4
1.3
0.5
2.2
17.0
De'anthony Melton
24
29.4
42.6
39.4
68.0
1.1
3.3
4.4
3.3
1.8
2.2
0.5
2.1
11.9
Shake Milton
23
24.5
51.7
37.7
86.4
0.7
2.5
3.2
3.5
1.8
0.3
0.2
1.9
11.6
George Niang
25
19.7
46.4
43.6
86.7
0.2
2.0
2.2
1.2
0.8
0.4
0.3
2.2
9.5
Daniel House
22
18.4
48.0
34.9
75.0
0.2
1.8
2.0
0.8
0.6
0.3
0.2
1.4
4.9
Montrezl Harrell
23
11.7
53.5
0.0
72.0
1.0
1.9
2.9
0.7
0.6
0.2
0.4
1.2
4.9
Furkan Korkmaz
16
12.5
38.7
33.3
72.0
0.3
1.2
1.4
0.9
0.8
0.3
0.1
0.5
4.8
pj tucker
27
28.8
43.2
40.0
77.8
1.2
3.0
4.3
1.0
0.9
0.6
0.3
2.7
3.5
Paul Reed, Jr.
24
11.1
54.2
0.0
66.7
1.3
2.3
3.6
0.5
0.7
0.9
0.7
2.3
3.0
Saben Lee
2
5.1
75.0
0.0
0.0
0.0
0.0
0.0
1.0
1.5
0.5
0.0
0.5
3.0
Matisse Thybulle
23
12.0
39.6
30.0
50.0
0.3
0.9
1.2
0.4
0.2
0.8
0.2
1.4
2.3
Jaden Springer
4
2.9
40.0
0.0
50.0
0.3
0.5
0.8
0.0
0.3
0.0
0.5
0.5
1.3
Michael Foster, Jr.
1
1.0
0.0
0.0
0.0
0.0
0.0
0.0
0.0
0.0
0.0
0.0
0.0
0.0
Julian Champagnie
2
3.3
0.0
0.0
0.0
0.0
0.0
0.0
0.0
0.0
0.5
0.0
0.0
0.0