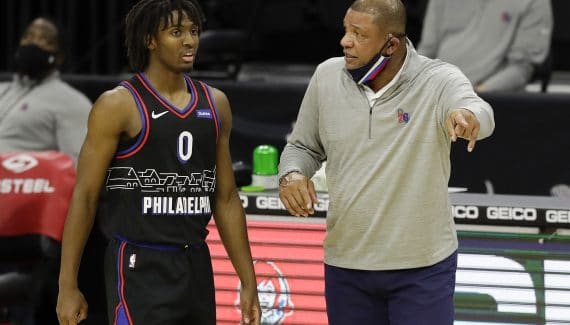 The next few hours are likely to be hectic in the NBA and more particularly in Pennsylvania, since it is rumored that the Sixers could make changes to their workforce by the "trade deadline".
The name that comes up on everyone's lips is obviously that of James Harden, Brian Windhorst ensuring that Brooklyn and Philadelphia are currently in negotiations. However, even including Ben Simmons in the loop, such a transaction will be difficult to put in place in such a short time and the leaders of Philadelphia may have to turn to other avenues to strengthen themselves.
What is certain is that Doc Rivers has already clearly identified one of the current weaknesses of his group, and more precisely of his bench…
" We need another post 1/2", confided the coach of Philly, coming out of defeat against Phoenix. " We do not have the choice. We need a point guard or a guard, and we are looking for one, even if we have [Furkan Korkmaz] and shake [Milton]. But it doesn't grow on trees. We could do nothing. We could do something only if an opportunity arises. But we clearly have a point guard/back, and also a big one."
Against the Suns last night, the Sixers did indeed suffer when their bench started to open up and Tyrese Maxey, Tobias Harris and Joel Embiid took a few minutes to rest (while Seth Curry was still having a bad night) .
Instead, Furkan Korkmaz, Danny Green, Matisse Thybulle, Georges Niang and Andre Drummond were present on the floor and there was therefore no longer any creator to turn the Philadelphia attack. What the substitutes of Phoenix were able to take advantage of.
Who to energize the back lines of Philly?
If the choices of Doc Rivers in terms of rotations may surprise, it must still be recognized that the Sixers are not sufficiently armed on the external positions, and in particular at the creation. In this sense, recovering James Harden would be a real luxury, but profiles like those of Dennis Schröder or Alec Burks, whose names are also mentioned on the Philadelphia side, could solve some problems.
Suspended from the decisions of his leaders, the Philly coach now has only one hurry: for this period to end so that his players are freed from a burden, mentally.
" I know they're NBA players, but they're mostly human beings "recalled Doc Rivers. " I can't imagine the number of names that have been put in transfer rumours. There, each player goes to bed thinking that this may be his last night [ici]. And it is something hard. Really hard."
While waiting for this "trade deadline" to deliver its verdict, this Thursday, the Sixers will have three days ahead of them to recharge their batteries. Then, they will have to play four games, with a possibly modified workforce, before the All-Star Break arrives at the right time for Doc Rivers' men.
" The next time we play it will be with our team [définitive]. So, as a coach, it's something I'm looking forward to. I'm really looking forward ", concluded the one who has just been named among the 15 best coaches in history.
Shots
Bounces
Players
GM
Minimum
Shots
3 points
LF
Off
Def
Early
pd
bp
Int
CT
party
Points
Joel Embiid
41
33.0
49.7
36.4
80.9
2.0
8.9
10.9
4.4
2.9
1.0
1.5
2.6
29.3
Tobias Harris
44
35.3
48.2
34.2
85.1
1.1
6.2
7.3
3.8
1.8
0.7
0.6
2.0
18.9
Tyrese Maxey
46
35.8
47.5
40.7
86.7
0.4
3.2
3.5
4.8
1.2
0.7
0.6
2.1
16.9
Seth Curry
44
35.0
49.1
40.6
87.7
0.4
3.0
3.3
4.1
1.9
0.8
0.2
2.2
15.3
Shake Milton
27
24.8
42.9
31.6
85.4
0.5
2.5
3.0
2.8
1.1
0.7
0.4
2.1
10.5
George Niang
49
23.0
43.8
39.8
86.4
0.3
2.3
2.6
1.5
0.9
0.4
0.2
2.6
9.5
Furkan Korkmaz
46
24.3
39.2
28.8
84.4
0.3
2.7
3.0
2.3
0.8
0.6
0.1
1.0
9.0
Danny Green
35
23.6
41.5
38.9
90.0
0.5
2.1
2.6
1.0
0.9
1.2
0.8
1.8
6.9
Andre Drummond
48
18.5
53.8
0.0
51.2
2.8
6.1
8.9
1.9
1.6
1.1
0.9
2.5
6.1
Matisse Thybulle
38
26.3
49.7
30.1
64.7
0.5
1.8
2.3
1.1
0.7
1.8
1.1
2.2
5.7
isaiah joe
38
12.9
35.5
33.0
95.2
0.1
1.1
1.2
0.7
0.3
0.3
0.1
1.0
4.0
Tyler Johnson
3
12.7
40.0
42.9
0.0
0.3
1.7
2.0
0.7
0.3
0.3
0.3
1.3
3.7
Charles Bassey
22
7.3
65.1
0.0
72.7
0.9
1.8
2.7
0.3
0.4
0.2
0.8
1.4
2.9
Paul Reed, Jr.
21
8.8
46.5
0.0
37.5
1.0
1.3
2.2
0.5
0.3
0.6
0.5
1.3
2.0
Charlie Brown
14
10.8
25.8
11.1
87.5
1.0
1.1
2.1
0.3
0.4
0.5
0.2
1.1
1.7
Myles Powell
11
4.7
29.4
16.7
100.0
0.1
0.5
0.5
0.3
0.3
0.1
0.0
0.7
1.2
Jaden Springer
2
2.8
100.0
0.0
0.0
0.5
0.5
1.0
0.0
0.5
0.0
1.0
0.0
1.0
Braxton Key
2
3.2
50.0
0.0
0.0
0.5
0.5
1.0
0.5
1.0
0.5
0.0
0.5
1.0
Aaron Henry
6
2.8
20.0
0.0
0.0
0.0
0.2
0.2
0.0
0.3
0.0
0.3
0.3
0.3