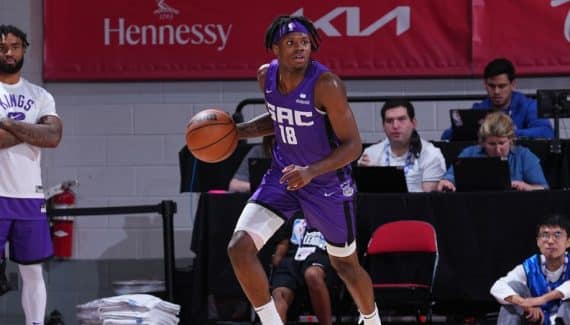 Like most franchises this time of the offseason, the Kings are fine-tuning their roster as training camp begins at the end of the month. It is therefore in this logic that the signing of DJ Steward fits, he who signed a partially guaranteed contract with Sacramento, according to Hooshype.
We imagine that it is an "Exhibit 10" contract, since the Kings have fourteen players under guaranteed contract, with a limit set at fifteen, and that their two "two-way" contracts are already signed, with Keon Ellis and Neemias Queta.
In other words, DJ Steward is invited to training camp and will have to prove himself, to try to snatch the fifteenth and last place in the squad. He will notably be in competition with Sam Merrill, signed by the Kings last month.
"Freshman" at Duke during the 2020/21 season (13 points, 4 rebounds, 2.4 assists), DJ Steward had not been drafted in 2021, and he had subsequently played in the Summer League with the Kings. Invited for the first time to training camp, he had been cut before the start of the season, and had then joined the Stockton Kings, the team affiliated with the Californian franchise in the G-League. He played the entire 2021/22 season there, averaging 14.6 points, 4 rebounds and 4 assists in 30 games.