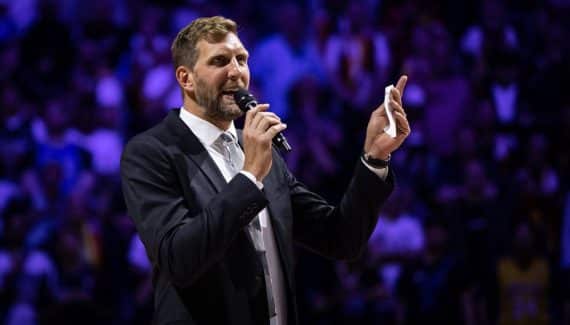 Between the emergence of new strongholds such as Germany or Ukraine, and the extraordinary attractiveness of the Doncic-Antetokounmpo-Jokic trio, we are perhaps experiencing one of the best EuroBasket in history. All that's missing is a level France team and a full Spain for the picture to be brighter.
For Dirk Nowitzkipassing through Milan after attending the start of the group stage in Cologne, there is reason to be enthusiastic about European basketball and its development.
Fan of Giannis Antetokounmpo…
"The level of talent is even higher. There are more teams participating and basketball has taken a step forward globally. First of all, there is a large pool of talent, and three Europeans are extraordinary in the NBA: Giannis Antetokounmpo, Luka Doncic and Nikola Jokic", did he declare. "Popularity and media presence have increased. Young people are enthusiastic, and if the talent pool is bigger, there are more talents to choose from. With a bit of luck, the general level in Europe can still improve. The level of quality is really good, the way they read the game too. I'm really impressed. The skill level has skyrocketed. It is enormous. These guys are good and athletic. We are all proud to see them improve".
Difficult to establish a hierarchy between the three behemoths straight from the NBA, with on the one hand a Nikola Jokic ultra dominant for two seasons and who finds himself in a selection of Serbia cut to win the Eurobasket, a Luka Doncic who comes to the Euro as the defending champion and embodies the future of the league on the other side of the Atlantic and Giannis Antetokounmpowho also takes pleasure in measuring up to European basketball and its specificities.
If Dirk Nowitzki obviously has a penchant for Luka Doncic, with whom he played for a season in Dallas, it is the "Greek Freak" who seems to impress him the most, especially in view of his career, seven years after his first EuroBasket in France, where he was still far from being today's superstar.
" He is incredible. When I first saw him, he was still a skinny kid. He got stronger, and his level of play improved. It gets better every summer. He is already MVP and NBA champion. He's a good boy, and he keeps getting better. I'm a fan of his." he confided. "He's one of the best players in the world and he's shown that as a champion and MVP. He is the first to tell you that you can always improve, but if you look at what he has already done at such a young age, he is one of the best".
… while waiting for Franz Wagner?
Each Eurobasket has its share of surprises, and this year, the German team seems to have reached maturity. In the opinion of most observers, Franz Wagner is no stranger to the good performance of his selection, and Dirk Nowitzki is obviously betting a lot on the Magic player in the future.
"We are all very excited about his future, his way of reading the game, of shooting, of managing pick-and-rolls. He became faster and more athletic. He had a great game against Lithuania. We will have a lot of fun with him in Germany and in Orlando".
In view of the level displayed and the future prospects for the next EuroBasket, Dirk Nowitzki can also say that he has left basketball in good hands!