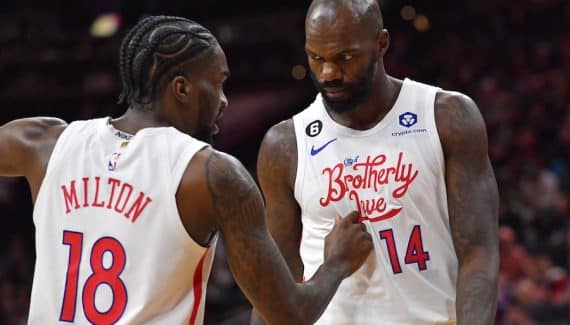 Call him " Dewayne Abdul Jabbar ", as George Niang. Dewayne Dedmon made his 76ers debut last night against the Wizards. And the pivot stood out by scoring his very first basket with his new team on a "hook", the great specialty of the former Lakers legend.
" It's great for him to be on his feet, to hit that hook, I think he hit another layup. It was huge (for him)", still enthuses Georges Niang. " I hadn't seen this since the 1980s! It was slow, you can tell he's an old man. He's my guy », formulate De'Anthony Melton.
This first match, finished with 4 points (2/2), 1 rebound and 1 assist in five minutes played in "garbage time", marked his return to competition after several weeks in the infirmary. First sent by his former team, the Heat, to San Antonio, the pivot had been recovered by the Sixers on the "buyout" market in mid-February. But the 33-year-old had to wait to treat a hip injury.
" It feels good to be back on the pitch. Play basketball and have fun. I feel good. Did I look like I was hurt? he pretends to wonder.
Finding "mental clarity and stability"
Prior to the game, Doc Rivers recalled that the 76ers wanted to make sure " that he is in good health. We think he is right now but we are at a pivotal time. We will definitely play him at some point because we want him to be on the pitch and see what he can bring us. »
several weeks ago, Daryl Morey had returned to this new acquisition, which made it possible to densify a racket already composed of Montrezl Harrell and Paul Reed behind Joel Embiid. " I know a lot of people have wondered about this. It has been appreciated for a long time. Many of our guys have played with him in the past ", recalled the leader, putting his average production this season in Miami on the account of health problems.
" In the end, we try to win the title. […] We gave priority to Jalen (McDaniels) rather than at the pivot position. You have seen what it is with the pivots. I can't name names but in some cases five second-round picks were claimed (in exchange) ", continues Daryl Morey who has given up on Matisse Thybulle to recover the former Hornets player.
For his part, the newcomer recently explained having joined the 76ers of Joel Embiid to fill a need " mental clarity and stability. It's the most important thing I need to move forward in my life and my career. "Especially after his complicated end of story with Erik Spoelstra and Miami.
Dewayne Dedmon
Percentage
Bounces
Season
Crew
GM
Minimum
Shots
3 points
LF
Off
Def
Early
pd
party
Int
bp
CT
Points
2013-14*
All Teams
31
13
45.8
0.0
65.6
1.2
2.9
4.1
0.2
2.1
0.2
0.6
0.7
3.1
2013-14*
ENT
16
15
43.4
0.0
76.5
1.7
3.2
4.9
0.1
2.3
0.4
0.6
0.8
3.7
2013-14*
PHL
11
14
51.7
0.0
53.8
1.0
3.5
4.5
0.3
2.6
0.0
0.8
0.8
3.4
2013-14*
GOS
4
1
0.0
0.0
50.0
0.0
0.0
0.0
0.0
0.3
0.0
0.0
0.0
0.3
2014-15
ENT
59
14
56.2
0.0
53.1
2.0
3.0
5.0
0.2
2.4
0.3
0.9
0.9
3.7
2015-16
ENT
58
12
55.9
0.0
75.0
1.2
2.8
3.9
0.2
1.9
0.4
0.6
0.8
4.4
2016-17
SAN
76
18
62.2
0.0
69.9
1.7
4.8
6.5
0.6
2.4
0.5
0.8
0.8
5.1
2017-18
ATL
62
25
52.4
35.5
77.9
1.6
6.3
7.9
1.5
2.6
0.7
1.4
0.8
10.0
2018-19
ATL
64
25
49.2
38.2
81.4
1.6
5.9
7.5
1.4
3.3
1.1
1.3
1.1
10.8
2019-20 *
All Teams
44
18
40.0
20.6
83.3
1.4
4.3
5.7
0.5
3.0
0.6
1.3
0.9
5.8
2019-20 *
BAG
34
16
40.4
19.7
82.1
1.4
3.6
4.9
0.4
2.7
0.4
1.4
0.8
5.2
2019-20 *
ATL
10
23
39.3
22.2
87.5
1.4
6.8
8.2
0.7
4.0
1.0
1.0
1.5
8.1
2020-21
MIA
16
13
70.8
20.0
74.1
1.8
3.6
5.4
0.8
2.3
0.6
0.8
0.4
7.1
2021-22
MIA
67
16
56.6
40.4
75.0
1.6
4.2
5.8
0.7
2.6
0.4
1.0
0.6
6.3
2022-23
MIA
30
12
49.6
29.7
72.7
0.9
2.7
3.6
0.5
2.0
0.2
0.6
0.5
5.7
Total
507
17
52.6
33.5
73.5
1.5
4.3
5.8
0.7
2.5
0.5
1.0
0.8
6.4