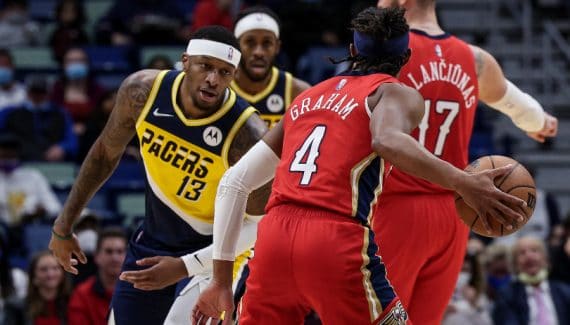 Many leaders absent on the scoresheet with Brandon Ingram and of course Zion Williamson on the Pelicans side, but also Domantas Sabonis, Malcolm Brogdon and Myles Turner on the Pacers side.
It was therefore the usual "role players" who had to fight for victory and the result was pleasant, with a match hung from start to finish, New Orleans still managing to take the final advantage (117-113 ) thanks to the skill of Devonte' Graham, the activity of Josh Hart and the power of Jonas Valanciunas.
WHAT YOU MUST REMEMBER
– Devonte 'Graham, the only shooter to swim on the Pelicans side. Disaster evening for the troop of Willie Green at 3-point with a horrible 6/30 (20%). If we remove Devonte' Graham's 5/9, all the other Pelicans have also shot at 1/21 behind the 7m25 line! It's not easy to win in these conditions…
– Paint ramming. To compensate, the Pelicans therefore insisted on the opposite racket, with 64 points scored under the circle, against 32 for the Pacers. New Orleans also played fast, multiplying the counter-attacks (18 points against 5) which ended in a "trailer", to stay in the game.
– Rick Carlisle liked the 'mindset'. Indiana ends its "road trip" of five games with a defeat and a negative balance (two wins – three losses) but given the absences and the generally difficult season of the team, the coach was rather satisfied with this passage to the West, and especially of the "state of mind" displayed. The team thus beat the Lakers and the Warriors on their land, and was not far from the Clippers, Suns and Pelicans.
TOPS/FLOPS
✅ Devonte' Graham. While his teammates couldn't get a long shot, the former Hornet floated to carry his team, and be decisive at the end of the game. Also inspired on the counter-attack, to find his comrades running with him, he thus delivered a solid and valuable match.
✅ Duane Washington Jr. The rookie has only been in Rick Carlisle's rotation for a short time but, like his uncle Derek Fisher, he is not shy and has thus signed a 7/12 from a distance which has helped his team to lead a good part of the game, participating in the Pacers' 19/46 3-pointer.
✅ The general activity of the Pelicans. We could cite almost the entire team, in particular Jonas Valanciunas who took advantage of the absences in the opposing racket, Josh Hart, who fought against a sprained ankle but never stopped attacking the Pacers, or even the Jaxson Hayes – Nickeil Alexander-Walker duo off the bench, who participated in the pounding in order, to compensate for this missed evening in shooting.
THE FOLLOWING
New Orleans (18-28) : big piece for Jonas Valanciunas at the Sixers of Joel Embiid, this evening
Indiana (17-31) : return home to receive the Hornets, tomorrow evening
Pelicans

/

117
Shots
Bounces
Players
Minimum
Shots
3 points
LF
O
D
T
pd
party
Int
bp
CT
+/-
Points
Rating

G.Temple

29
6/13
0/3
2/2
1
3
4
1
-8
14
11

H.Jones

34
4/9
0/3
1/2
1
3
4
2
4
1
2
+5
9
12

J.Valanciunas

30
6/11
0/0
4/5
5
7
12
6
4
3
1
+9
16
26

D.Graham

35
8/14
5/9
4/4
3
3
6
1
1
1
+8
25
28

J.Hart

36
6/11
1/5
9/9
1
9
10
2
5
1
3
-2
22
27

G.Clark

12
0/4
0/2
0/0
2
2
-7
-2

J Hayes

17
6/10
0/1
2/2
2
5
7
4
2
2
+4
14
17

J.Alvarado

12
1/4
0/2
1/1
1
2
1
+2
3
2

N. Alexander-Walker

34
4/13
0/5
6/6
2
1
3
6
1
1
1
1
+9
14
15
Total
41/89
6/30
29/31
12
33
45
23
22
7
10
4
117
Pacers

/

113
Shots
Bounces
Players
Minimum
Shots
3 points
LF
O
D
T
pd
party
Int
bp
CT
+/-
Points
Rating

J.Holiday

22
3/8
0/3
2/2
1
1
1
1
1
-9
8
4

T.Craig

30
5/8
3/5
0/0
2
2
4
2
4
1
-12
13
17

G. Bitadze

22
4/7
0/1
4/6
3
2
5
3
5
3
-4
12
12

C.LeVert

32
8/21
3/6
0/2
2
4
6
8
2
4
-7
19
14

C.Duarte

27
4/11
2/6
4/4
4
4
3
2
1
1
-4
14
16

I.Jackson

12
2/4
0/1
2/2
4
4
1
5
1
2
+9
6
10

O. Brissett

33
1/5
1/4
3/5
1
8
9
4
2
2
2
6
11

D.Washington Jr.

23
7/12
7/12
0/0
2
2
3
1
+3
21
21

J Lamb

22
2/5
1/4
2/2
1
2
3
1
1
1
+2
7
7

L.Stephenson

17
2/6
2/4
1/2
4
4
5
3
3
1
+2
7
9
Total
38/87
19/46
18/25
10
32
42
26
28
4
15
7
113