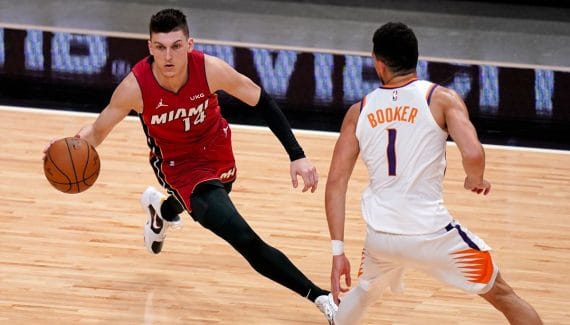 There are many things in common between Devin Booker and Tyler Herro. Both are full backs known for the quality of their outdoor shooting, they come from Kentucky University and they were selected in 13th position of their Draft (2015 for Devin Booker, 2019 for Tyler Herro).
From his arrival in the NBA, the player of the Heat claimed to adore the game of his colleague of the Suns and, today in his third season, the sixth man of Miami reiterates the importance of the All-Star of Phoenix in his development.
" Devin is someone I take inspiration from all the time. " he delivered after a superb match 33 points in the Heat's victory over the Suns last Saturday. " He's the one I've been inspired by since joining the league, and the one I've compared myself to. Even today I observe him, I keep an eye on his season on the side of Phoenix. "
Two different trajectories in the NBA
Arrived in 2015 in a team of the Suns in distress, Devin Booker ate his black bread for four long seasons, chaining the offensive cards in a team nailed to the last places of the Western Conference. Before finally experiencing individual recognition, with his first All-Star Game selection in 2020, then especially the collective success last year with an accession to the NBA final for his first playoffs.
For Tyler Herro, collective success came much faster since the Heat reached the Finals, in the Orlando "bubble" in the summer of 2020, from his rookie season.
A playoff campaign, his first, during which he had splashed the league with his talent, including a huge performance at 37 points against the Celtics, during Game 4 of the Eastern Conference Semifinals.
Disappointing last year, once the euphoria of his incredible rookie season has subsided, he is back in the foreground this season (20.7 points, 4.9 rebounds and 3.9 assists on average, in 33 minutes), after a studious summer, establishing himself as the favorite for the title of sixth man of the year.
Tyler herro
Percentage
Rebounds
Season
Team
MJ
Min
Shots
3pts
LF
Off
Def
Early
Pd
Fte
Int
Bp
Ct
Pts
2019-20
MIA
55
27
42.8
38.9
87.0
0.3
3.8
4.1
2.2
1.4
0.6
1.6
0.2
13.5
2020-21
MIA
54
30
43.9
36.0
80.3
0.5
4.5
5.0
3.4
1.3
0.7
1.9
0.3
15.1
2021-22
MIA
34
33
42.7
38.8
86.9
0.7
4.3
4.9
3.9
1.4
0.6
2.9
0.2
20.7
Total
143
30
43.2
37.9
84.5
0.5
4.2
4.6
3.1
1.4
0.6
2.0
0.2
15.8