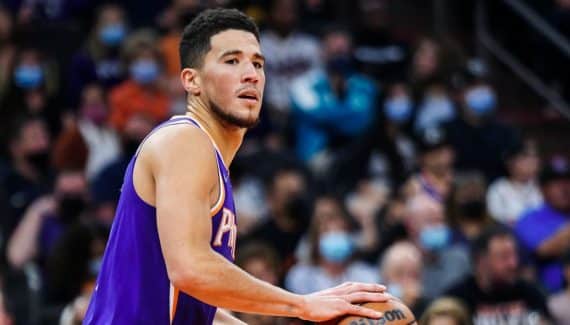 While he was going back and forth between the infirmary and the field for a few weeks, Devin Booker will this time have to stop longer. The Suns have just announced that the full-back suffered from a sprained groin, and would be out for at least the next four weeks…
It's a problem that Devin Booker had been dealing with for some time, and which he made worse during the Christmas game.
Obviously, this is a new blow for Phoenix, which loses its best scorer (27.1 points on average), the club also having to do without Cameron Payne, while waiting for Cam Johnson's return to business.
Monty Williams' troupe will thus have to grit their teeth without Devin Booker, in order to stay in the right wagon in the West. Currently, the club is in 5th place in the conference, with 20 wins for 15 losses.
Devin Booker
Percentage
Bounces
Season
Team
GM
Minimum
Shots
3 points
LF
Off
Def
Early
pd
party
Int
bp
CT
Points
2015-16
PHX
76
28
42.3
34.3
84.0
0.4
2.1
2.5
2.6
3.0
0.6
2.1
0.3
13.8
2016-17
PHX
78
35
42.3
36.3
83.2
0.6
2.6
3.2
3.4
3.1
0.9
3.1
0.3
22.1
2017-18
PHX
54
35
43.2
38.3
87.8
0.5
4.0
4.5
4.7
3.1
0.9
3.6
0.3
24.9
2018-19
PHX
64
35
46.7
32.6
86.6
0.6
3.5
4.1
6.8
3.1
0.9
4.1
0.2
26.6
2019-20
PHX
70
36
48.9
35.4
91.9
0.4
3.8
4.2
6.5
3.0
0.7
3.8
0.3
26.6
2020-21
PHX
67
34
48.4
34.0
86.7
0.5
3.7
4.2
4.3
2.7
0.8
3.1
0.2
25.6
2021-22
PHX
68
35
46.6
38.3
86.8
0.7
4.4
5.0
4.8
2.7
1.1
2.4
0.4
26.8
2022-23
PHX
29
35
47.7
37.0
85.0
0.8
3.8
4.6
5.6
2.7
0.9
2.4
0.4
27.1
Total
506
34
45.8
35.8
86.9
0.5
3.4
4.0
4.7
2.9
0.8
3.1
0.3
23.7