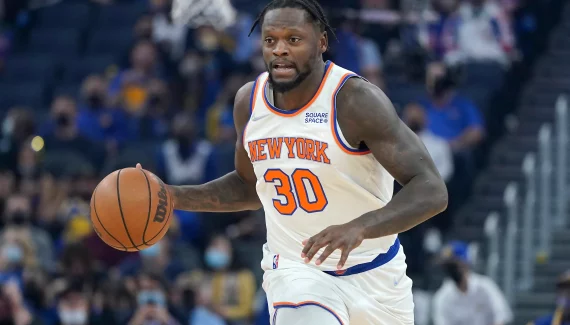 Finally back in New York after ten days spent in the West, the Knicks concluded their "road-trip" with a sad record of 1-4, including a terrible "finish" in Portland, which keeps them further than ever from a qualification for the "play-in". However, Julius Randle is not discouraged. Overall in difficulty this season, the strong winger has indeed found colors during these trips (29.2 points, 12.8 rebounds, 6.2 assists), and he judges that the negative balance of the Knicks on these five matches is not representative of the game level displayed.
" Frankly, I come away encouraged, because it was a complicated 'road-trip'" explains the 2021 All-Star. " We played against very good teams during this trip. We were in the game for four of those five games, with a chance to win each time. So it's encouraging from that point of view. But it's also disappointing to finish at 1-4, we could easily have been 4-1."
Hard to fault him. Because apart from the huge slap received on the floor of Denver (in "back-to-back"), the Knicks were indeed in good shape at the end of the match during the three other defeats, against the Lakers (-7), Jazz (-9), and of course to the Blazers (-9). Enough to feed regrets, while the Knicks present a record of 25 wins for 32 defeats a few days before the break of the "All-Star Weekend".
The strong winger knows that the return of this "break" will be decisive if the Knicks want to snatch a ticket for the "play-in".
" I'm brushing it all off and focusing on these last two games, and how I can help my team finish strong before the break. I hope we'll come back fresher after this break he delivered, as the Knicks actually prepare to complete the first part of their season at home, against the Thunder and then the Nets.
Shots
Bounces
Players
GM
Minimum
Shots
3 points
LF
Off
Def
Early
pd
bp
Int
CT
party
Points
Julius Randle
55
35.5
42.0
30.2
75.6
1.9
8.3
10.2
5.2
3.5
0.8
0.6
2.8
19.4
Rj Barrett
48
33.1
41.2
35.4
69.5
0.9
4.8
5.7
2.6
2.0
0.5
0.3
2.0
18.0
Evan Fournier
55
29.2
42.2
39.4
71.3
0.5
2.4
2.9
1.8
1.4
0.9
0.3
2.1
14.2
Derrick Rose
26
24.5
44.5
40.2
96.8
0.8
2.2
3.0
4.0
1.5
0.8
0.5
0.6
12.0
Kemba Walker
35
25.8
40.4
36.6
83.3
0.4
2.7
3.1
3.5
1.3
0.7
0.1
1.1
11.8
Alec Burks
56
26.6
38.3
39.2
82.6
0.6
3.8
4.4
2.6
1.0
1.1
0.3
2.4
11.1
Immanuel Quickley
53
21.4
36.6
32.8
91.4
0.3
2.0
2.3
2.9
1.2
0.6
0.1
2.2
9.4
Mitchell Robinson
51
25.2
76.8
0.0
52.0
3.8
4.8
8.6
0.5
0.7
0.6
1.6
2.7
8.4
Obi Toppin
52
15.3
51.2
24.1
75.0
0.9
2.7
3.6
0.9
0.8
0.3
0.4
1.3
7.3
Quentin Grimes
37
16.9
41.9
39.9
64.7
0.5
1.3
1.8
1.0
0.6
0.7
0.2
1.4
6.1
Cam Reddish
7
11.9
33.3
15.4
94.7
0.1
1.0
1.1
0.4
0.9
0.7
0.3
0.4
5.4
Taj Gibson
37
18.2
53.3
38.1
75.8
1.6
2.8
4.4
0.7
0.6
0.4
0.8
2.8
3.9
Kevin Knox
13
8.5
37.5
35.7
70.0
0.6
1.1
1.7
0.2
0.4
0.2
0.1
0.4
3.6
Nerlens Noel
25
22.5
53.3
0.0
70.0
1.9
3.7
5.6
0.9
0.8
1.2
1.2
2.7
3.4
Damyean Dotson
2
10.3
50.0
0.0
0.0
0.0
1.0
1.0
0.5
0.0
0.0
0.0
0.0
2.0
Miles Mcbride
21
7.2
25.9
16.1
75.0
0.1
0.7
0.8
1.1
0.1
0.4
0.0
0.7
1.8
Wayne Selden
3
6.4
25.0
50.0
50.0
0.0
0.3
0.3
0.3
0.0
0.0
0.0
0.3
1.7
jericho sims
18
6.5
72.7
0.0
75.0
0.6
0.9
1.5
0.1
0.1
0.2
0.4
0.6
1.1
Tyler Hall
1
1.9
0.0
0.0
0.0
0.0
0.0
0.0
0.0
0.0
0.0
0.0
0.0
0.0
Daniel House
1
3.4
0.0
0.0
0.0
0.0
0.0
0.0
0.0
0.0
0.0
0.0
0.0
0.0
Matt Mooney
1
1.9
0.0
0.0
0.0
0.0
0.0
0.0
0.0
1.0
1.0
0.0
0.0
0.0