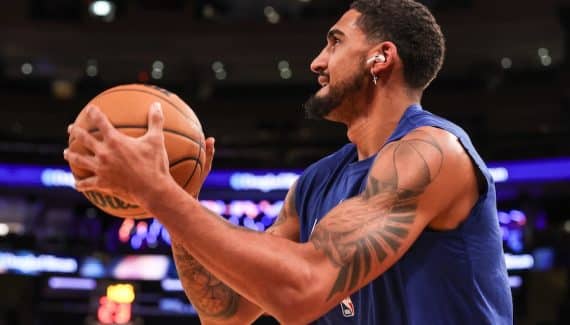 He had rarely exceeded the bar of ten attempts in the same game this season. Facing the Thunder, Obi Toppin tried his luck a lot but also missed a lot: 5 points scored at 2/11 on shots, with 3 rebounds and 4 fouls in 17 minutes.
This last outing confirms the big slack of the Knicks strong winger. For four games, he has only averaged 3 points with disastrous percentages: 18% on shots, including 13% from afar.
Despite this bad sequence, his playing time does not weaken and remains around 20 minutes. A sign that Tom Thibodeau's confidence is still relevant.
" I believe in his journey. It's someone very applied. He has a method for everything he does. He spent a lot of time working on his shot. Players go through times like this, but he can help us in so many different ways. », judges the New York technician.
The latter is aware that this is a classic bad pass. Before these four games, he had still averaged almost 11 points (49.5% on shots including 42% from afar) and 4 rebounds over a streak of 13 games, excluding his very first discreet game of the season.
While waiting for this renewed skill, the double coach of the year thinks that his player can still help the team in " his way of spinning the ball, his way of placing himself on the floor, with his rebounds… But I am very confident in his abilities. »
The change of rotation therefore does not seem to be for today while during this time, Evan Fournier has just chained five "DNP"…
Obi Toppin
Percentage
Bounces
Season
Crew
GM
Minimum
Shots
3 points
LF
Off
Def
Early
pd
party
Int
bp
CT
Points
2020-21
NYK
62
11
49.8
30.6
73.1
0.4
1.8
2.2
0.5
0.9
0.3
0.4
0.2
4.1
2021-22
NYK
72
17
53.1
30.8
75.8
1.0
2.8
3.7
1.1
1.4
0.4
0.8
0.5
9.0
2022-23
NYK
18
18
42.6
36.5
90.9
0.7
3.2
3.9
1.1
1.2
0.5
0.9
0.2
8.5
Total
152
15
50.5
32.0
76.4
0.7
2.4
3.1
0.8
1.2
0.3
0.6
0.3
6.9