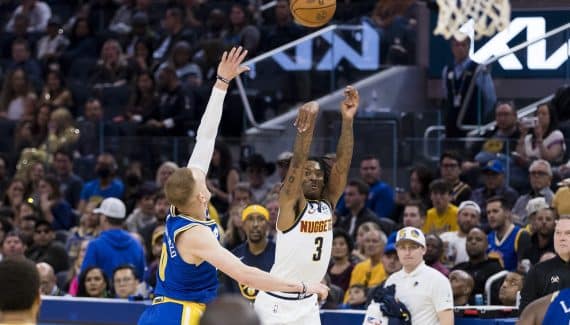 For the first six matches in December, Bones Hyland posted a nice 44% success at 3-pts. Then, for three matches, the machine has seized up with an ugly 3/18 behind the arc, or only 17%.
Result: during this period, he only scored 8 points on average with a 26% shooting success. A small crisis of efficiency from which he must quickly emerge. How to do ?
"Frankly: keep shooting", he responds to the Denver Post. "I know I'm a good shooter. I work so hard for this. It doesn't matter because the next game, I can put seven."
Michael Malone does not seem worried by this clumsiness either. Nevertheless, he asks him to compensate by weighing in the other sectors of the game. A clumsy shooter must not become a useless player.
"We don't like specialists", explains the Nuggets coach. "If the shots don't fall in, then you have to do something else: play for others, defend, go and get some rebounds. Do all the other things that help get back into it. »
Bones Hyland's job isn't always made easier by Denver's bench. The player is the sixth man on the team, the leading scorer off the bench, but the production of substitutes is not always up to par in Denver. And it's been going on for a while.
"There is not a huge pressure, but it is sometimes complicated when there are different players in each match", he confesses in the face of the changes in the face of the bench according to the injuries of each one. "I launch systems but nobody moves, nobody knows what to do. I look at them and they also look at me as if it were up to me to do things. »
Bones Hyland
Percentage
Bounces
Season
Team
GM
Minimum
Shots
3 points
LF
Off
Def
Early
pd
party
Int
bp
CT
Points
2021-22
DEN
69
19
40.3
36.6
85.6
0.2
2.5
2.7
2.8
2.2
0.6
1.3
0.3
10.1
2022-23
DEN
22
21
39.3
40.6
83.0
0.3
1.8
2.1
3.2
1.7
0.7
1.7
0.4
13.7
Total
91
19
40.0
37.7
84.8
0.2
2.4
2.6
2.9
2.1
0.6
1.4
0.3
11.0