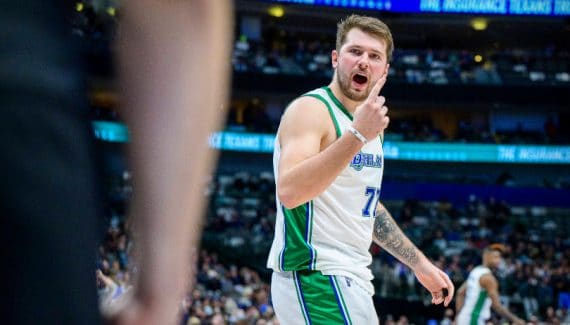 Can we compile 40 points at 16/33 shooting including 5/13 at 3-points, 10 assists and 6 rebounds, for only 3 ball losses, and still cost the victory to his team? That's what Luka Doncic thinks anyway.
While a 3-pointer (a little lucky) from Reggie Bullock had given control of the match (103-101) to Dallas with 8.5 seconds on the clock, the Slovenian thus flinched. First in defense, where he let Kenrich Williams slip away at the layup, on a quick serve from Josh Giddey on the throw-in, to equalize.
"It's my fault, I didn't see it coming", railed Luka Doncic afterwards. Especially since in the process, at 103 everywhere, he still had a match point, but against Lu Dort, he took a very difficult 3-point stepback.
"This game is for me. I made two bad choices on the last possessions. It was by far my worst defense game of the year, for sure. " The former Real Madrid player is indeed making efforts on this side of the pitch this season, but his performance against the Thunder, and the explosion of Tre Mann, will not be remembered.
Like his choice on the last possession of the fourth quarter…
"There was a tie. I was waiting for the take in two and when I saw that it wasn't coming, I decided to shoot in stepback". Clearly, Luka Doncic was expecting to draw the assist to serve as an unmarked team-mate. Except that the Thunder surprised him by playing him one-on-one with Lu Dort. With 14 points in overtime, the latter killed Dallas alone in overtime, leaving Luka Doncic particularly bitter.
Jason Kidd was much less critical of his "franchise player". Certainly, his two bad choices weighed heavily in the last ten seconds, but the coach does not blame him at all.
"We gave the ball to Luka and gave him the opportunity to make a decision. He had a good shot." thus summed up the "head coach". "He's our best player. We are confident that he will get a good shot and he did. He created this shot. He had a good opening. "
Luka Doncic
Percentage
Bounces
Season
Team
GM
Minimum
Shots
3 points
LF
Off
Def
Early
pd
party
Int
bp
CT
Points
2018-19
DAL
72
32
42.7
32.7
71.3
1.2
6.6
7.8
6.0
1.9
1.1
3.4
0.4
21.2
2019-20
DAL
61
34
46.3
31.6
75.8
1.3
8.1
9.4
8.8
2.5
1.0
4.3
0.2
28.8
2020-21
DAL
66
34
47.9
35.0
73.0
0.8
7.2
8.0
8.6
2.3
1.0
4.3
0.6
27.7
2021-22
DAL
36
35
44.4
30.9
73.7
0.8
8.1
8.9
8.9
2.3
1.2
4.4
0.5
25.6
Total
235
34
45.5
32.8
73.5
1.1
7.4
8.4
7.9
2.2
1.0
4.0
0.4
25.7