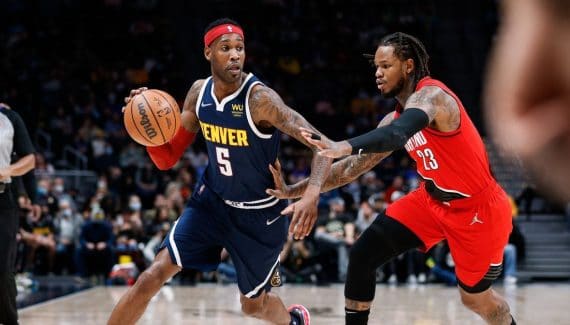 Without Damian Lillard or CJ McCollum (injury), nor Norman Powell (health protocol), or Anfernee Simons (personal reasons), the Blazers started their six-game long "road trip" with a rather limited workforce. Without too much surprise, Denver took full advantage of it to win with confidence, leading from start to finish (140-108).
Nikola Jokic (20 points, 8 rebounds, 7 assists) did not even need to come back into play in the last quarter. Unlike Tuesday's game against the Clippers, this time the Nuggets managed to maintain their advantage of more than 20 points, thanks to a good Will Barton (21 points) who unfortunately had to leave, hit in the neck.
WHAT YOU MUST REMEMBER
– Portland didn't even last a quarter. With Dennis Smith Jr, Ben McLemore and Nassir Little on the back posts and the Nurkic – Covington duo inside, Portland presented a five that was already quite baroque. But the "dropoff" (the difference) with the substitutes was far too big. As soon as Chauncey Billups had to bring in his linings, the Blazers irretrievably dropped ground on the scoreboard. The gap rose quickly, after a first quarter where they conceded 41 points…
– Jeff Green puts on the show. Journeyman who is already in eleven different franchises throughout his career, started in Seattle alongside Kevin Durant, Jeff Green always has a good eye. At 35, the winger has certainly had open-heart surgery and a host of small glitches, but he is still just as bouncy and "green"! In the second quarter, on the caviars of Jokic, he still rewarded us with several dunks of very good quality.
– Little scare for Will Barton. Historically fragile player, Will "The Thrill" Barton hit a wall named Jusuf Nurkic last night. In the third quarter, when he was in a good rhythm with already 21 points on the clock, Will Barton went into penetration as he is used to. But, losing his balance along the way, he ended up crashing into Nurkic, remaining motionless on the ground for a long time. In the end, he joined the locker room before returning to his bench. A good sign for Denver who also has to deal with a lot of injuries…
TOPS/FLOPS
✅Nikola Jokic. The reigning MVP didn't have to force his talent against Jusuf Nurkic and the Blazers. Rarity this season, he does not finish in double-double, but simply because his team dominated so much that he did not set foot on the boards in the last quarter. Nevertheless, at 20 points, 8 rebounds and 7 assists, the "Joker" still admired his mastery.
✅Facundo Campazzo. The Argentinian leader of the Nuggets was put on the bench in favor of Monte Morris but he responded with a high quality double-double, with 18 points, 12 assists and 4 interceptions. He even had a little fun with a pass between Covington's legs for Jokic's dunk (no more fault).
✅Jeff Green. At 35, Jeff Green doesn't do much more than score, but 2022 is doing well for him. The veteran winger is turning over 15 points per game in the new year and last night he delivered a layer of it with 19 points at 9/11 on shots and a nice mix of dunks.
⛔Jusuf Nurkic. The only holder still in place for Portland, we could expect him to take on more responsibilities. But the "Bosnian Beast" was still very small yesterday evening. At 10 points, 8 rebounds and 6 assists, he had a decent game, but nothing more. With only 9 shots attempted, he did not force his nature when his team needed a leader on the move.
⛔Nassir Little. He, like Anfernee Simons, has a free hand at the end of the season in tanking. Portland is counting on him in the future and Little has the ticket shoots. But last night, he didn't really make good use of it, finishing at 4/12 overall including 3/10 from 3-pointers. His -26 +/- is the worst on his team…
MICHAEL PORTER JR. MAKES AN APPEARANCE
Absent from the season on the Nuggets side, in addition to Jamal Murray of course, Michael Porter Jr. reappeared on the boards of the Ball Arena last night. Hit again in the back, his problem since his fleeting stint at the University of Missouri, the Denver winger was warming up last night before the game. But only for penalty shootouts. An assistant coach was actually at his side to watch him like milk on fire: "Don't jump Michael, you're not allowed to jump!" "
THE FOLLOWING
Denver (21-19) : reception of the Lakers on the night of Saturday to Sunday.
Portland (16-25) : continuation of the road trip in the federal capital in the night from Saturday to Sunday.
nuggets

/

140
Shots
Bounces
Players
Minimum
Shots
3 points
LF
O
D
T
pd
party
Int
bp
CT
+/-
Points
Rating

I. Green

30
9/11
0/1
1/1
1
4
5
3
3
0
1
0
+13
19
24

A.Gordon

27
2/5
0/2
1/2
0
8
8
4
1
0
3
1
+12
5
11

W.Barton

25
7/12
4/6
3/6
1
3
4
2
2
1
1
0
+11
21
19

N.Jokic

28
8/10
1/2
3/3
0
8
8
7
2
0
3
2
+18
20
32

Mr Morris

22
2/5
2/5
3/3
0
1
1
2
2
0
0
0
+15
9
9

Z.Nnaji

22
6/8
1/2
3/3
4
5
9
0
2
1
0
0
+20
16
24

F. Campazzo

27
7/10
3/6
1/2
0
0
0
12
4
4
3
0
+21
18
27

Mr Howard

3
1/2
1/2
0/0
0
0
0
0
0
0
0
0
-1
3
2

B. Hyland

23
6/12
5/8
0/0
0
4
4
3
6
0
3
0
+24
17
15

A.Rivers

27
3/7
3/7
0/0
0
0
0
1
3
1
1
0
+18
9
6

D.Reed

5
1/1
1/1
0/0
0
1
1
1
0
0
0
0
+9
3
5
Total
52/83
21/42
15/20
6
34
40
35
25
7
15
3
140
Trail Blazers

/

108
Shots
Bounces
Players
Minimum
Shots
3 points
LF
O
D
T
pd
party
Int
bp
CT
+/-
Points
Rating

R. Covington

30
4/10
2/5
0/2
3
4
7
0
1
4
2
0
-10
10
11

N.Little

27
4/12
3/10
3/4
1
3
4
2
0
0
0
1
-26
14
12

J. Nurkic

25
4/9
0/3
2/3
2
6
8
6
4
1
3
1
-11
10
17

D.Smith Jr.

36
7/12
0/1
3/5
0
2
2
8
3
1
1
0
-14
17
20

B.McLemore

29
6/14
4/9
2/3
0
1
1
4
3
2
1
1
-11
18
16

T.Watford

23
4/7
0/1
3/5
1
1
2
0
2
0
4
2
-21
11
6

G.Brown III

10
3/4
0/1
2/2
1
0
1
0
1
0
1
0
-3
8
7

T. Snell

17
3/5
0/2
0/0
1
3
4
0
0
0
1
0
-17
6
7

K.Blevins

15
2/3
2/3
0/2
0
2
2
1
1
0
1
0
-23
6
5

C. Elleby

27
2/10
2/5
2/2
2
1
3
7
3
3
1
0
-24
8
12
Total
39/86
13/40
17/28
11
23
34
28
18
11
15
5
108