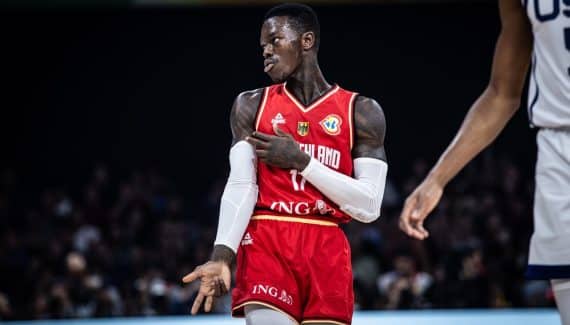 More than one. All that's missing is a victory.Germany to finish this world Cup undefeated and win her first ever world gold medal.
Eager to make history with his country since the start of the tournament, Dennis Schröder is close to achieving its ultimate objective, which is particularly driven by the fact of helping the development of basketball on German soil.
" I hope that basketball will become a little more attractive and will attract more attention ", declared, as the final approaches, the leader of the Raptors. " I am [en sélection] for ten years and the difference has been enormous since then, I am happy to be part of it. I try to put Germany, our country, on the world map and that is the reason why I play for the national team. I try to help others, like younger people who were like me fifteen years ago, so that they can change things, take care of their families and play in the spotlight. »
In his eyes, Dennis Schröder has never played in "a better team" than that of Germany 2023 version and, as leader and captain of this selection, he will be responsible, as often, for setting an example against Serbia . Whether or not he's having a good day.
" You can never control whether shots fall in, so I try to stay positive and give my teammates the confidence they need. That's the most important thing, whether I miss my shots or not », Explains the almost 30-year-old German, in reference to his 4/26 against Latvia. " As a leader, it is your responsibility and especially that of the captain. You always have to stay positive. We did a great job collectively, staying together and enjoying being together. »
Defying the odds until the end, without changing anything
Two days after the exploit of the Nationalmannschaft against Team USA, Dennis Schröder is already ready to do it again against Bogdan Bogdanovic's teammates, in order to continue to silence those who underestimated his country.
" I appreciated [cette victoire] and I shared it with my friends, my family, my teammates ", first indicated the one who admitted to having " went to bed very late " Friday night." We made history, no one believed in us or thought we could go this far. It's something special. »
Then Dennis Schröder warns that he and his teammates will not change anything before the final (and during), because the formula has worked quite well since the start of the competition: " Our routine will always be the same. We got here and we deserved to be there. We have worked hard and we will try to do the same [aujourd'hui]. If we can do this collectively, by sticking together and doing what we know how to do, then we can get the job done. I think everyone is in it mentally, no one takes being in the final for granted. But it's just one more match and we're going to give it our all for 40 minutes no matter what. »
His batteries now recharged after a good night's sleep, Dennis Schröder does not intend to put any form of pressure on himself, even if it is the most important match of his career.
" Every match is the same for me during the summer ", he confides. " Of course, it's the World Cup and it's a huge honor to play in the final, something special, but it's still a match. »
Photo credit: FIBA.com