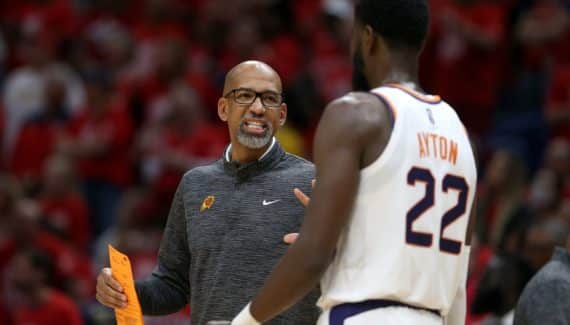 Objectively, nobody really gave much of the skin of the Knicks, in Phoenix Sunday evening. On the other hand, it could be expected that the New York franchise at least dominates its opposition in the battle for the rebound, since it was ranked in 4th place in the league before the meeting, compared to the 24th place of the Suns.
In hindsight, only one of those two predictions came true: the first, as Devin Booker & Co. easily outplayed the Knicks. But if the second turned out to be "false", it is because it also swung in favor of the back of Phoenix and his teammates, who flew over the rebound battle: 60 to 39, and in particular a 21 -10 for offensive rebounds!
Smaller than their opponents (the Knicks are the league's fourth-largest team), the Suns got around the problem by making up for it in numbers: Monty Williams had ordered all of his players, not just Deandre Ayton and the other insiders, to get involved in the offensive rebound battle.
A total change of philosophy for the Suns technician, who has always been a supporter of an assured defensive withdrawal, which he credits to his assistant Kevin Young, who convinced him that the rebound was a central sector in the construction of 'a victory.
" I have always favored the defensive withdrawal, and therefore three or four guys back in the half of the field to defend. And at the end of my first year here [2019/20, ndlr], we were the league leaders in points against in transition. But that doesn't always translate into a lot of wins » he explained thus. " And so Kevin was the one who changed my mind. In training and during video sessions, he puts a lot of emphasis on the rebound. And it became very clear to me that when you control the rebound, you increase your chances of winning. »
Unlike the Wolves, who earlier this season had voluntarily sacrificed the offensive rebound to ensure their defensive withdrawal, the Suns therefore managed to find the right balance between the offensive rebound (15 points scored on second chances) and the defense in transition (only 12 points conceded on quick play).
" It's a choice we made [face aux Knicks], but that could change in the next game, depending on the profile of the team. But we discover that if we send several guys to the rebound, we limit the transitions. And our defense did not suffer as I imagined. We hope that we will be able to continue on this momentum concluded Monty Williams.
Shots
Bounces
Players
GM
Minimum
Shots
3 points
LF
Off
Def
Early
pd
bp
Int
CT
party
Points
Devin Booker
16
36.6
47.7
38.2
89.3
0.9
3.9
4.8
5.9
2.4
1.0
0.6
2.3
27.6
Mikal Bridges
16
36.8
54.5
44.0
88.4
1.2
4.3
5.5
3.5
1.3
1.1
1.1
2.1
15.8
Deandre Ayton
14
28.2
57.5
30.0
66.7
2.9
5.1
8.1
2.2
2.1
0.6
0.6
3.3
14.6
Cameron Payne
14
24.2
44.2
42.3
85.2
0.3
2.4
2.7
4.5
2.1
1.0
0.3
2.1
14.1
Cameron Johnson
8
25.3
44.6
43.1
72.7
0.6
2.8
3.4
1.8
0.3
1.1
0.4
1.8
13.0
Chris Paul
10
30.2
36.8
27.3
88.2
0.5
4.0
4.5
9.4
1.5
1.7
0.2
2.3
9.5
Torrey Craig
16
21.6
50.0
43.1
72.7
1.8
2.9
4.7
1.6
0.8
0.6
0.6
2.3
7.6
Damion Lee
16
20.3
43.7
50.0
88.2
0.5
2.5
3.0
1.2
0.6
0.5
0.1
1.5
7.6
Jock Landale
15
14.8
51.2
11.5
77.8
1.6
2.5
4.1
0.7
0.8
0.3
0.8
2.4
7.3
Landry Shamet
9
16.3
40.0
36.4
84.6
0.2
0.4
0.7
1.2
0.9
0.6
0.1
1.3
7.0
Duane Washington, Jr.
9
8.6
36.7
32.0
0.0
0.0
0.4
0.4
0.9
0.3
0.0
0.0
0.3
4.9
Bismack Biyombo
12
12.6
51.5
0.0
63.6
1.2
2.7
3.8
0.8
0.9
0.2
1.7
2.1
3.4
Ish Wainright
2
10.9
20.0
25.0
0.0
2.0
1.5
3.5
1.0
1.0
0.0
0.0
1.0
3.0
Dario Saric
8
9.4
30.8
20.0
75.0
1.4
1.9
3.3
0.9
0.5
0.4
0.0
1.4
2.6
Josh Okogie
15
5.9
28.0
9.1
66.7
0.5
0.9
1.5
0.3
0.5
0.3
0.3
1.1
1.3