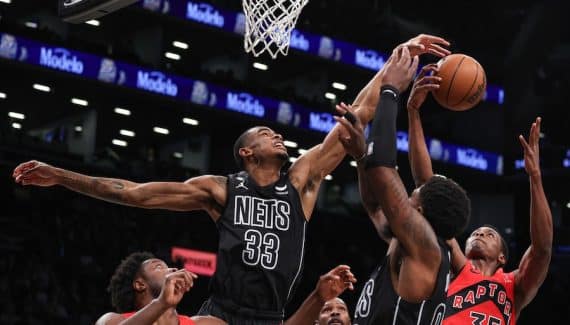 Christian Koloko came down almost as fast as he went up. The Raptors center imagined he was smashing the circle, but he smashed himself on a rampart named Nic Claxton. The Cameroonian interior was not the only one to experience this fate. On the Canadian floor three days ago, the pivot of the Nets distributed the slaps.
He even set himself a career record with six blocks, completing his 9th double-double of the season with 15 points (5/5) and 10 rebounds in just 26 minutes.
" It was huge. Six blocks and he blocked their pivot twice in the circle, it's not easy to do. So it makes others nervous when it comes to the racket. He protected the circle and we're going to need that for the rest », congratulates Kevin Durant after this meeting.
" When he counters shots, it makes our defense much more dangerous », complete Kyrie Irvingwho felt this performance coming: " When Nic tells me to step aside so he can counter, I know we're going to have an active night with him. He is the type to wait for the ball to come close to the circle. And I tell him with respect that I'm shooting one block per game, I'm up there myself with the insides! »
The point guard actually displays his best career average, which makes him the league's No. 1 in counterattacks at his position, but he obviously does not box in the same category as his teammate.
Brook Lopez in front of him
Averaging 2.4 units, also his career high, Nic Claxton is the league's second-best blocker behind Brook Lopez (2.8), as Jaren Jackson Jr. (3.1) didn't play enough matches.
" I honestly think I'm one of the best defensemen in the league. I think I should be in the debate for defender of the year. I feel like I don't get the respect I deserve. We win, my statistics are good, I protect the circle and I defend positions 1 to 5 ", Lists the interested party to apply.
Only the number of blocks is rarely the only factor taken into account by voters for this trophy. The player's "defensive rating" (110 points conceded out of 100 possessions) is for example much worse than certain natural candidates like Rudy Gobert (107.5), Giannis Antetokounmpo (105.7), Joel Embiid (105) or Brook Lopez (104.4).
In addition, the Nets have the 13th best defense in the league, far from the Cavs, Bucks and 76ers, the winning trio currently in the sector. He and his teammates will therefore have to multiply the big defensive performances to raise his name in this race for the trophy. One ESPN recent ranking placed Brook Lopez as the favorite while his Nets counterpart was not mentioned…