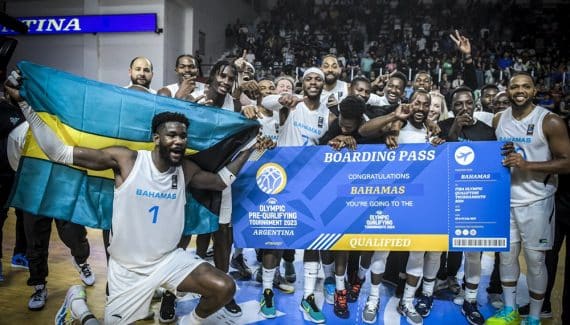 Archipelago of 400,000 inhabitants located in the Atlantic Ocean, northeast of Cuba, the Bahamas created the surprise of this week dedicated to the Olympic pre-qualifying tournaments by winning Sunday against Argentina. At the heart of the project, three NBA players, and even stars, since it is Deandre Ayton, Buddy Hield and Eric Gordon. The new Suns rear has benefited from an exemption to play in the Bahamian jersey, and he ends up downright MVP of the tournament!
"It means a lot. It's great to do this for the Bahamas" Gordon comments. "My mother was born and raised there. I'm happy to continue the journey with these guys. We're a great group, and I love it. »
Author of 27 points in the final, 6 out of 7 from 3-point range, the former Rockets 6th man hurt the Argentines very badly, and it was he who killed the match in the last two minutes when the Bahamians had attacked the last quarter six points behind.
"It's a whole, a collective" Gordon continues. "We have good coaches, good players. That's just it, and that's what we wanted to do. I'm glad we're going down in history. »
The consciousness of fighting for a country
Gordon's future Suns teammate Ayton thanked him "to have been a leader by example". "Eric led us to the Promised Land, and we supported him the whole game. I saw how emotional there was as this game approached. We support each other and we are together. They are the best teammates I have ever known, on and off the pitch. You become aware that you are fighting for your country and that everyone is participating in the same mission. It was a phenomenal feeling. »
Faithful to the selection, Buddy Hield (15 points) is proud to have convinced Ayton and Gordon to join him in selection. "The interior is unique" launches Hield about Ayton (21 rebounds!). "Bravo to DA, for sacrificing himself for the good of the country. He knew what was at stake."
But Hield is also there to remind everyone that this is only a step towards going to the Olympics, and the course remains very complicated since 24 teams will be in contention for only four places.
"We're not done yet… We have to stay involved, but we appreciate that everyone came and sacrificed to get here. I'm so happy for Eric. I know a lot of Bahamians say Eric isn't always in the Bahamas, but he probably is more than me! »