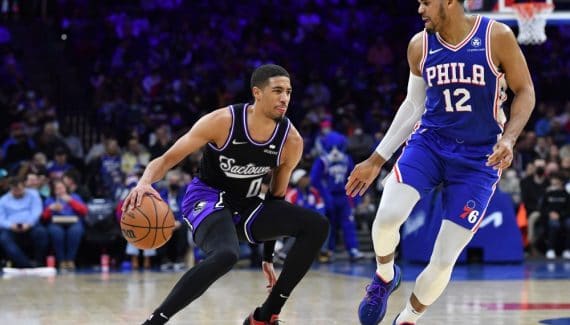 Change was expected in Sacramento but De'Aaron Fox and Tyrese Haliburton were expected to stand still. The executives pressed the button anyway on Tuesday night, sending the second to Indiana for Domantas Sabonis in a six-man trade.
Inevitably, Fox was surprised by this announcement, which he did not learn from social networks.
"Before it all came out, Tyrese wrote to the band"says the playmaker to NBC Sports. "Everyone was surprised and thought he was lying. Then, bam, the news came out. We were shocked. "
In just his second season in the league and in Sacramento, Haliburton was sacrificed to bring in an All-Star.
"You build relationships with people and things like that happen in the sports world. He knows it. Some of the best players in the league have been transferred, he is aware of that. He's definitely a player we're going to miss." says Fox. "For someone like Tyrese, it's difficult," continues Harrison Barnes. "It marked us, it was an emotionally charged day. It's hard to see players you've become close to leaving. But it's part of the business. "

The back will arrive in Indiana in a more than average team (13th in the East) and which lost in a few days its two best scorers, the Lithuanian and Caris LeVert.
The Pacers even remain on four straight defeats and this end of the season could be very long. Nonetheless, Fox feels his ex-teammate Haliburton can do some good things on his new team.
"Indiana just got a very good player back"assures Fox. "He is ready to take charge. They just traded Caris LeVert, and Malcolm Brogdon is out, so Tyrese has a big, big, huge opportunity. He is a great player and he will take this chance. "
Shots
Bounces
Players
GM
Minimum
Shots
3 points
LF
Off
Def
Early
pd
bp
Int
CT
party
Points
De'aaron Fox
43
34.1
45.8
24.8
74.4
0.5
3.3
3.8
5.2
2.8
1.2
0.4
2.8
21.0
Harrison Barnes
50
33.7
45.6
40.6
81.5
1.1
5.0
6.1
2.5
1.6
0.7
0.2
1.3
16.8
Buddy Hield
55
28.6
38.2
36.8
87.0
0.8
3.2
4.0
1.9
1.6
0.9
0.3
2.1
14.4
Tyrese Haliburton
51
34.4
45.7
41.3
83.7
0.8
3.1
3.9
7.4
2.3
1.7
0.7
1.4
14.3
Richaun Holmes
37
25.7
68.3
40.0
76.5
2.3
5.6
7.9
1.2
1.3
0.4
1.0
3.0
11.8
Terence Davis
30
17.9
42.3
32.9
81.8
0.4
2.8
3.1
1.3
1.1
0.8
0.4
2.3
10.4
Davion Mitchell
49
25.8
40.7
31.6
56.1
0.5
1.7
2.2
3.4
1.1
0.7
0.3
1.9
10.3
Marvin Bagley III
30
21.9
46.3
24.2
74.5
2.2
4.9
7.2
0.6
0.7
0.3
0.4
1.7
9.3
Chimezie Metu
37
22.1
41.8
27.1
72.0
0.6
5.3
5.9
1.0
0.9
0.9
0.6
1.4
8.7
Alex Len
32
16.8
52.6
31.6
64.3
1.5
3.2
4.7
1.2
1.2
0.3
0.8
2.8
6.3
Tristan Thompson
30
15.2
50.3
100.0
53.3
2.4
3.0
5.4
0.6
1.0
0.4
0.4
1.7
6.2
Damian Jones
35
15.2
62.3
35.7
72.7
1.5
2.5
4.0
1.1
1.0
0.3
0.6
2.1
6.1
Maurice Harkless
37
19.7
44.0
30.0
68.4
0.3
2.2
2.5
0.6
0.7
0.6
0.6
1.7
4.9
Louis King
9
9.5
34.1
33.3
70.0
0.0
1.2
1.2
0.7
0.0
0.2
0.0
1.4
4.8
Jahmi'us Ramsey
18
6.0
42.9
21.4
50.0
0.2
0.3
0.5
0.2
0.2
0.1
0.1
0.4
2.8
Neemias Queta
10
5.6
39.1
0.0
60.0
1.1
0.8
1.9
0.4
0.4
0.1
0.4
1.1
2.1
Emmanuel Mudiay
2
5.5
0.0
0.0
75.0
0.0
0.0
0.0
2.0
0.5
0.5
0.0
0.5
1.5
justin robinson
3
5.0
12.5
0.0
0.0
0.0
0.3
0.3
0.7
0.3
0.0
0.0
0.7
0.7
Robert Woodard II
11
3.2
8.3
33.3
100.0
0.4
0.5
0.9
0.3
0.1
0.1
0.1
0.2
0.5
Ade Murkey
1
1.5
0.0
0.0
0.0
0.0
0.0
0.0
0.0
0.0
0.0
0.0
0.0
0.0