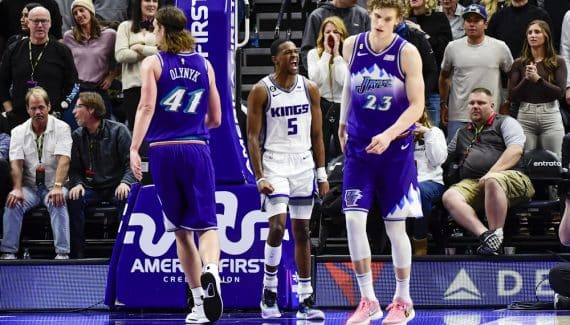 Lauri Markkanen thought he had given his team the victory with an unlikely final 3-point shot, on one foot and on the bell, after a quarterback pass from Jarred Vanderbilt! But, after video review, his shot was canceled, arrived too late, within a few hundredths of a second…
Instead of a heroic victory, the Jazz will have to settle for a (new) defeat on the wire against Sacramento (117-115), after that of December 31 (126-125), unable to stop the layup victorious over De'Aaron Fox with 0.4 seconds remaining.
Untenable in the last quarter, with 22 of his 37 points over the period, the Kings point guard struck a blow with several high-class actions, including a spectacular dunk and a mid-range shot to repel the Jazz again and again.
It must be said that the latter had to chase after the score throughout the 3rd quarter, and even until the fourth. Sacramento was leading by +7 with 3:30 remaining but Clarkson and Markkanen pushed to come close and even equalize several times.
Despite 28 points from Markkanen, including a perfect 15/15 on throws, Utah must bow for the fifth time in a row. Another infuriating defeat for Utah, which has lost its last five games on a minimal differential of 17 points. Infuriating!
WHAT YOU MUST REMEMBER
– An ultra-intense end to the match. The NBA made no mistake about it, devoting a full-fledged video to this breathtaking end to the match! At -7 more than 3 minutes from the end of the match, Utah had returned to equality at 20 seconds from the buzzer, after a layup while in control from Conley, then three shots full of composure from Markkanen. At the same time, the Kings did not give their share to the dog either, with a De'Aaron Fox more clutch than ever, present at all levels in attack: dunk, layup or shot from mid-range. In this case, it was on a final layup 0.4 seconds from the end that Fox was to make the difference… After the cancellation in extremis of Markkanen's incredible shot, which arrived a bit too late!
– Fox's last quarter madness. Author of 22 points at 9/10 on shots in the last period, Fox was simply unstoppable, elusive with his combination of speed and technique. Only three players have done better this season in a 3rd quarter: Darius Garland (27 points), Joel Embiid (26 points) and Jayson Tatum (23 points).
TOPS/FLOPS
✅ De'Aaron Fox. This is the third time this season that Fox has reached 37 points, but it is probably his most spectacular game of the three, with a real display of mastery in the last quarter with his 22 points at 9/10 on shots.
✅ Domantas Sabonis. Despite his thumb injury, Sabonis continues to perform miracles. After his perfect game at 12/12 on shots, the Baltic interior managed another impressive double-double with 21 points, 14 rebounds and 8 assists, all at a very good 8/13 on shots.
✅ ⛔ Lauri Markkanen. The unfortunate hero of the evening does not have much to reproach himself for the last action. His shot on one foot was a model of its kind… Before that, the Finnish interior had amazed on the throw line with a perfect 15/15, for 28 points and 8 rebounds. Unfortunately, he had not set the sights from afar (1/7 from 3-pointers).
⛔Kelly Olynyk. Faced with Sabonis, a former Gonzaga like him, Olynyk suffered martyrdom. Limited to 5 points, plus 6 rebounds and 4 assists, the Canadian interior has mostly torn on shots with a 2/7 including 1/4 from afar. A poor performance that hurts in such a tight match…
THE FOLLOWING
Sacramento (20-16) : reception of Atlanta on Wednesday to start a series of five games at home.
Utah (19-21): trip to Houston on Thursday evening.
Utah

/

115
Shots
Bounces
Players
Minimum
Shots
3 points
LF
O
D
T
pd
party
Int
bp
CT
+/-
Points
Rating
K.Olynyk
28
2/7
1/4
0/0
2
4
6
4
5
1
1
0
-5
5
10
L. Markkanen
36
6/15
1/7
15/15
0
8
8
1
2
0
2
0
-6
28
26
J.Vanderbilt
25
7/12
0/1
0/0
5
4
9
2
1
1
2
1
+2
14
20
Mr. Conley
33
6/10
2/4
4/5
0
1
1
7
2
3
1
0
+11
18
23
J.Clarkson
35
9/17
5/10
1/1
2
1
3
2
4
0
3
0
-15
24
18
R.Gay
13
0/5
0/3
0/0
1
2
3
2
0
0
2
0
+3
0
-2
W.Kessler
17
2/3
0/0
2/2
1
6
7
0
3
2
1
1
-5
6
14
Mr Beasley
31
5/12
3/9
3/3
1
5
6
2
2
2
2
1
+12
16
18
N. Alexander-Walker
15
1/5
1/4
1/3
0
1
1
1
0
0
1
0
-13
4
-1
O. Agbaji
7
0/2
0/2
0/0
0
0
0
0
0
0
1
0
+6
0
-3
38/88
13/44
26/29
12
32
44
21
19
9
16
3
115
123
Sacramento

/

117
Shots
Bounces
Players
Minimum
Shots
3 points
LF
O
D
T
pd
party
Int
bp
CT
+/-
Points
Rating
D. Sabonis
39
8/13
0/1
5/5
3
11
14
8
5
0
2
0
+21
21
36
H.Barnes
37
7/13
3/7
2/2
1
7
8
2
2
2
3
0
+4
19
22
K.Murray
37
6/12
3/7
1/1
2
3
5
1
3
0
1
1
+19
16
16
D.Fox
38
15/22
1/5
6/8
0
3
3
6
2
1
4
2
-6
37
36
K.Huerter
32
6/12
2/6
2/2
0
4
4
1
2
0
2
0
+18
16
13
T.Lyles
9
1/3
0/2
0/0
0
2
2
0
1
0
2
1
-12
2
1
K.Okpala
7
0/0
0/0
0/0
0
0
0
0
4
2
0
0
-1
0
2
R.Holmes
9
0/1
0/0
0/0
0
0
0
0
2
0
1
0
-13
0
-2
D.Mitchell
18
2/3
0/1
0/0
0
3
3
1
2
2
0
0
-14
4
9
Mr. Monk
15
1/7
0/3
0/0
1
0
1
4
3
0
2
0
-6
2
-1
46/86
9/32
16/18
7
33
40
23
26
7
17
4
117
132