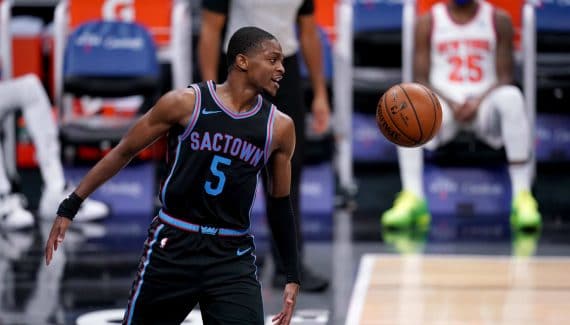 With their victory against the Rockets, the Kings now point to 10th place in the Western Conference. But it's still fragile and Sacramento doesn't seem to have the weapons or the consistency to aim higher and finally replay the playoffs.
So much so that the franchise would now think, when it was against it at first, to separate from De'Aaron Fox and / or Tyrese Haliburton. Even if the Sixers don't want it in exchange for Ben Simmons…
Nevertheless, the climate is far from being appeased in the Californian capital and inevitably, the playmaker is affected by the rumors.
"As we are in difficulty, we are potentially thinking of a transfer, that's clear", assures Fox for Yahoo Sports. "If we have to change the scenery, then that changes everything. I have been here for five years, I have built my life and my family here. I've had trade deadlines, with players being traded at the last second. We try not to think about it, but we know it's a business where anything can happen. We look at Twitter, it's obvious. Am I worried? No. Can this happen? Yes, clearly. »
Fox may well say that he does think of nothing else on the pitch", the next few weeks will be long until the "trade deadline" on 10 February. Especially if the Kings keep skating.
"I'm not going to say here and now that I want to be transferred, but anything can happen," he continues. "We saw the best players in the league being transferred, so we can't think we're safe. But I like being here. Fans love the Kings, who are the only professional team in town and I've always loved that. We are in a basketball city and the fans have a huge love for the Kings and for their players. I love that. »
De'Aaron Fox
Percentage
Bounces
Season
Team
GM
Minimum
Shots
3 points
LF
Off
Def
Early
pd
party
Int
bp
CT
Points
2017-18
BAG
73
28
41.2
30.7
72.3
0.5
2.3
2.8
4.4
2.2
1.0
2.4
0.3
11.6
2018-19
BAG
81
31
45.8
37.1
72.7
0.5
3.2
3.8
7.3
2.5
1.6
2.8
0.6
17.3
2019-20
BAG
51
32
48.0
29.2
70.5
0.7
3.2
3.8
6.8
2.8
1.5
3.1
0.5
21.1
2020-21
BAG
58
35
47.7
32.2
71.9
0.6
2.9
3.5
7.2
2.9
1.5
3.0
0.5
25.2
2021-22
BAG
40
34
45.2
24.3
75.1
0.5
3.2
3.7
5.1
2.9
1.2
2.8
0.4
20.9
Total
303
32
45.7
31.4
72.3
0.5
2.9
3.5
6.2
2.6
1.4
2.8
0.4
18.5