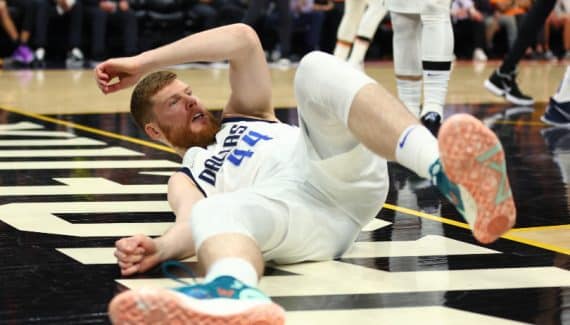 We had forgotten about it, but Davis Bertans is still stuck in the Mavericks infirmary. Embarrassed by pain in his right knee, already operated on twice, he has still not started his season.
But that could be the case in the next few days, maybe even tonight against the Clippers…
Because as explained Dallas official websiteDavis Bertans played his first normal practice on Monday, and he appears to have recovered enough to reunite with his teammates.
"He did the job on the pitch and he looked in very good shape" explained Jason Kidd. "We'll see how he feels tomorrow (today), but I think he's going in the right direction. »
Davis Bertans explained that he felt good, even if he admitted to being a little short, in terms of physical condition.
"I was a little tired, it's the first time I've been on the pitch with the team, so I was a little out of breath" he confided. "I had the opportunity to work all over the pitch (Sunday) but this is the first full training session with the team. »
The Latvian, who just turned 30, says he doesn't know what caused his pain, which he struggled to get rid of, but his main concern was to feel good about his knee right, who underwent two operations following a rupture of a cruciate ligament. Even if it was not necessarily easy to wait.
"When the team plays well and wins, it's fun to watch, it's easy to watch. But when the team is struggling, especially some games where there's trouble behind the 3-point line, I'm sitting on the bench or watching this on TV and I'm like, 'I could really help with my shot. The games where the team has a little trouble are the ones that make you anxious, that make you want to be on the pitch. »