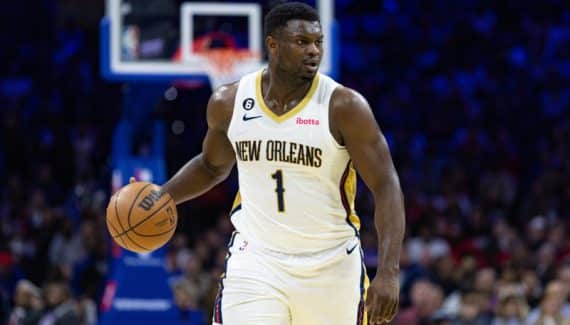 Last month, a few days before the Draft, it was rumored that Zion Williamson was transferable if it allowed the Pelicans to select Scoot Henderson.
The proof that the Pelicans would no longer be so attached to their interior, certainly efficient when he plays (25.8 points, 7.0 rebounds and 3.6 career average assists), but too often injured to be able to take his team to the top (only 114 games played since his Draft, out of 308 possible…).
In the aftermath, the rumor of an attempt to reconcile Zion Williamson and his franchise appeared in any case but, despite this, it was necessary that David Griffinthe vice-president of basketball operations of New Orleansspeaks on the subject and himself denies these rumors.
" We never had a discussion about Zion Williamson », announces the leader. " People assume we'd be willing to part ways with Zion because of his injuries, but there's always a lot of noise around him, and luckily that never matches up with the reality of things. »
What David Griffin especially regrets is that the slightest little information about Zion Williamson takes on a disproportionate extent, while the relationship between the double All-Star and his team would be, according to the words of the former GM of the Cavaliers , " very good ".
" What is unfortunate is that his name constantly generates clicks "Explains the one who, however, thanked the rumors to facilitate the transfer of Anthony Davis in 2019. " It is therefore very easy for people to fabricate a rumor about it, because they do not have to be really credible in their words to generate clicks. Reality doesn't matter anymore, only clicks matter and, unfortunately for Zion, he's someone people pay a lot of attention to, who generates a lot of stories. »
Nevertheless, Zion Williamson, just 23 years old, will be particularly scrutinized next season. Especially after his recent statements on the importance of having a healthy lifestyle…
Zion Williamson
Percentage
Bounces
Season
Crew
GM
Minimum
Shots
3 points
LF
Off
Def
Early
pd
party
Int
bp
CT
Points
2019-20
NOP
24
28
58.3
42.9
64.0
2.7
3.6
6.3
2.1
1.8
0.7
2.5
0.4
22.5
2020-21
NOP
61
33
61.1
29.4
69.8
2.7
4.5
7.2
3.7
2.2
0.9
2.7
0.6
27.0
2022-23
NOP
29
33
60.8
36.8
71.4
2.0
5.0
7.0
4.6
2.2
1.1
3.4
0.6
26.0
Total
114
32
60.5
34.3
69.1
2.5
4.4
7.0
3.6
2.1
0.9
2.9
0.6
25.8
How to read the stats? MJ = matches played; Min = Minutes; Shots = Shots made / Shots attempted; 3pts = 3-points / 3-points attempted; LF = free throws made / free throws attempted; Off = offensive rebound; Def= defensive rebound; Tot = Total bounces; Pd = assists; Fte: Personal fouls; Int = Intercepts; Bp = Lost bullets; Ct: Counters; Points = Points.