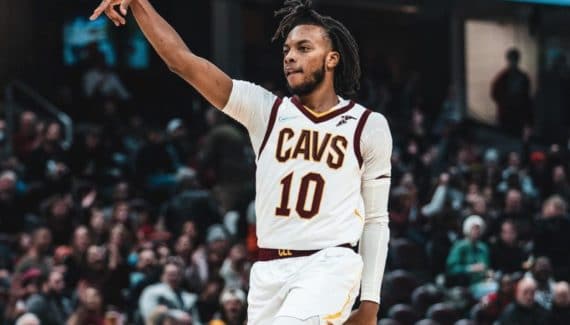 "Darius Garland should be at the All-Star Game. What he's doing right now is top notch. " After the Cavs' victory on the Jazz field during a successful road trip to 5 wins in 6 games in the depths of winter, with a triple-double at 11 points, 14 assists and 10 rebounds, Donovan Mitchell had knighted his younger brother.
And Mitchell isn't the only one who thinks Darius Garland deserves to be in the All-Star Game: Dwyane Wade and Candace Parker agree with the Jazz guard.
A wonderful third season
Already very good for his second pro season last year, with 17 points and 6 assists on average, Darius Garland is moving into another category of players this year. "He makes us a very dynamic team because he is a threat in all aspects of the game", likes JB Bickerstaff in Dime Mag.
With 19 points and 8 assists on average this season, and a Cavs team that has defied all odds with its big five major, the Ohio point guard is clearly on the coaching shelves for the next star-studded weekend of the NBA. Especially at home!
"His assists come from the fact that he can read the game better now. He sees the actions before they happen and he is no longer simply in the reaction", continues JB Bickerstaff. "He manipulates the defenses because he knows what to expect now. "
Author of decisive actions in the last minutes of several games, including two cold-blooded shots in Toronto, or a 3rd quarter of madness in the federal capital, or this quarter-time with 10 assists to overthrow the Thunder, or even a trophy for best player of the week in the Eastern Conference the same day of his double-double with 22 points and 12 assists to beat the Nets of James Harden and Kyrie Irving, Darius Garland is living a third NBA season at high level.
"I wake up every morning with a smile on my face, really. And just because I know I'm going to have a good day with my teammates. "
kill the father
A native of Gary, Indiana (like Glenn "Big Dog" Robinson), not far from Michael Jackson's birthplace, Darius Garland is proud of his career. Passed by the Brentwood Academy in Tennessee, then the small college of Vanderbilt, where he will finally only play five games because of a nasty knee injury, he arrived in the NBA as a raw talent, chosen in 5th position of the Draft 2019 by Cleveland.
"Not many people are doing well where I come from", he announces. "If only to pass the age of 21, it's an achievement when you come from my city. To be able to arrive in the NBA was something else again. There are only two players who came out of Gary, Indiana, and made it to the NBA. It's cool to be able to represent my city and my origins. As few people manage to get by, being able to represent my city means a lot to me. "
Often compared to his father Winston, who also passed through the NBA between the end of the 1980s (at Golden State) and the beginning of the 1990s (between the Clippers, Nuggets, Rockets and Wolves), Darius Garland has certainly not reached the 1m88 of the father, but he has largely exceeded his father in his production at the highest level. The one we nicknamed "Little Winston" became Darius, the most famous Garland of the family!
"His technical level has always been above average", underlines Bryce Drew, his coach at Vanderbilt, currently coach of Grand Canyon (where the Frenchy Yvan Ouedraogo evolves in particular). "He was always ahead of his age. His size and his strength were perhaps not at the same level as some of his comrades who were more mature than him physically but it did not change anything as he was talented and had this charisma ball in hand. He has always been a beautiful player to watch, regardless of age. "
Taken in hand this season by two high quality mentors, first Ricky Rubio and now Rajon Rondo, to continue his apprenticeship, Darius Garland is an attentive and studious student.
"I love making video. I just like to chat about basketball. That's why I actually love talking. I'm going to sit and watch a game and then ask tons of questions as I go. "
Authority, he knows!
Raised the hard way with two grandpas who were in the army, and a dad who knew the demands of the high level, Darius Garland is not the type to hide. Authority, he knows. And he doesn't mind, quite the contrary!
"Just be honest with me. I don't like being told nonsense. You have to be completely frank with me. I want people to tell me things. If I make a mistake, I want to be yelled at. I want to be treated the same as the last guy on the end of the bench. I don't want special treatment or anything like that. Train me the hard way. That's the only thing that works for me. "
As part of the young Cavs team, Darius Garland has become the master of a squad that plays big and is no longer afraid to seek victories in hostile terrain. After two seasons with 19 and 22 wins, Cleveland has finally managed to regain the heights of the Eastern Conference, at an unexpected speed. Currently 3rd in the East, a win and a half from first place by the way, the Cavs are no longer making anyone laugh.
"Lamar [Stevens] started barking and it just stayed with us. We are dogs. We are outsiders [des « underdogs "]. A lot of people didn't expect to see us in the position we are in now. Being part of the outsiders has clearly given us a boost. When we have away games and we win, we start barking to show that we are here to stay! Nobody's going to run over us like before. "
Darius Garland
Percentage
Bounces
Season
Team
GM
Minimum
Shots
3 points
LF
Off
Def
Early
pd
party
Int
bp
CT
Points
2019-20
KEY
59
31
40.1
35.5
87.5
0.5
1.4
1.9
3.9
1.6
0.7
2.6
0.1
12.3
2020-21
KEY
54
33
45.1
39.5
84.8
0.4
2.0
2.4
6.1
2.0
1.2
3.0
0.1
17.4
2021-22
KEY
43
35
46.7
36.4
90.7
0.5
2.7
3.3
8.2
1.7
1.3
3.7
0.1
19.7
Total
156
33
44.0
37.0
87.5
0.5
2.0
2.4
5.8
1.8
1.0
3.0
0.1
16.1