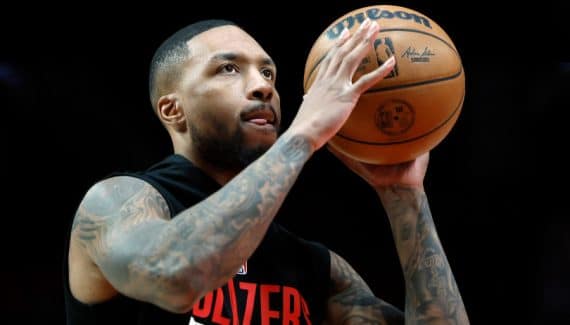 The Oregonian takes stock of this boiling month of July on the Portland side. A few days after Scoot Henderson's Draft, executives learned, or rather had confirmation, that Damian Lillard wanted to leave. He has only one destination in mind: the Miami Heat.
A month later, the All-Star point guard is still in Portland, and the Blazers still haven't entered into serious negotiations with Pat Riley. For what ? Quite simply because the Heat only have Tyler Herro to put in the balance, and the Blazers do not want him because they want to bet on the Henderson-Simons-Sharpe trio on the outsides. What Portland wants, according to our colleagues, are four first draft rounds and two good young people.
Portland is in a strong position
The Heat does not necessarily have that in stock, and they have to find a 3rd, even a 4th team, to set up a trade with several. The franchises armored in Draft choices are known, and we find in particular the Thunder and the Jazz. They know there is the possibility of recovering Tyler Herro, one of the best attackers of his generation.
However, seven weeks before the start of the "training camp", nothing is moving, and Portland is very satisfied with this immobility. No other team has come forward to pick up Lillard, and the franchise is in a strong position. Time is on his side, even if there is the fear of keeping Lillard demotivated, as the Rockets experienced with James Harden in 2020.
Still The Oregonian, Lillard said he had no plans to stay home when it resumed, and that he planned to be present for the start of the "training camp" Blazers if no trade is concluded by then. He plans to train and even… play to justify his salary: more than $45 million in 2023/24.