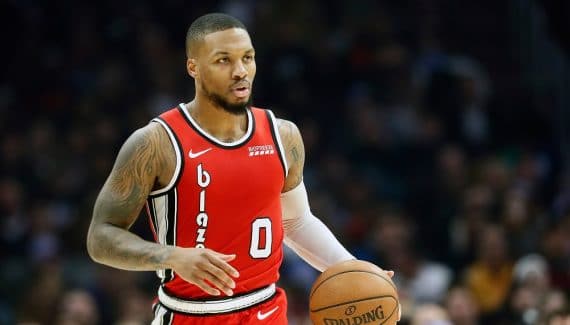 Portland's dark season continues. If the Blazers remain, of course, on three successes in their last five games, Oregon players are currently only in 10th place in the Western Conference, with a sad record of 16 wins and 24 losses.
Results obviously far from what we could expect from the Blazers, who have been in the playoffs since 2014 (longest running streak). But, due to injuries (including that of CJ McCollum) and a workforce that seems to have arrived at the end of the cycle, the franchise has not been able to take off so far.
And it may well be that Portland never really takes off in 2021/22, because ESPN reports that Damian Lillard agreed to have surgery for this abdominal injury, which has bothered him since the Tokyo Olympics and which had already caused him to miss ten days in December and then ten days in January.
Therefore, this operation means that the All-Star will not be seen again for at least six to eight weeks. If not more, depending on how his recovery progresses and the Blazers' results in his absence. Because it is not impossible that the leaders decide to clean up the workforce by the "trade deadline".
While waiting to learn more about the future intentions of the Portland "board", it should be noted that this abdominal injury had repercussions on the performance of Damian Lillard (24.0 points, 4.1 rebounds and 7.3 assists on average), who knows quite simply the worst exercise of his shooting career (40% on shots, 32% at 3-points).
Damian lillard
Percentage
Bounces
Season
Team
GM
Minimum
Shots
3pts
LF
Off
Def
Early
Pd
Fte
Int
Bp
Ct
Points
2012-13
POR
82
39
42.9
36.8
84.4
0.5
2.6
3.1
6.5
2.1
0.9
3.0
0.2
19.1
2013-14
POR
82
36
42.4
39.4
87.1
0.4
3.1
3.5
5.6
2.4
0.8
2.4
0.3
20.7
2014-15
POR
82
36
43.4
34.3
86.4
0.6
4.0
4.6
6.2
2.0
1.2
2.7
0.3
21.0
2015-16
POR
75
36
41.9
37.5
89.2
0.6
3.4
4.0
6.8
2.2
0.9
3.2
0.4
25.1
2016-17
POR
75
36
44.4
37.0
89.5
0.6
4.3
4.9
5.9
2.0
0.9
2.6
0.3
27.0
2017-18
POR
73
37
43.9
36.1
91.6
0.9
3.6
4.5
6.6
1.6
1.1
2.8
0.4
26.9
2018-19
POR
80
36
44.4
36.9
91.2
0.9
3.8
4.6
6.9
1.9
1.1
2.7
0.4
25.8
2019-20
POR
66
38
46.3
40.1
88.8
0.5
3.8
4.3
8.0
1.7
1.1
2.9
0.3
30.0
2020-21
POR
67
36
45.1
39.1
92.8
0.5
3.8
4.2
7.5
1.5
0.9
3.0
0.3
28.8
2021-22
POR
29
36
40.2
32.4
87.8
0.5
3.7
4.1
7.3
1.3
0.6
2.9
0.4
24.0
Total
711
36
43.7
37.3
89.3
0.6
3.6
4.2
6.7
1.9
1.0
2.8
0.3
24.6