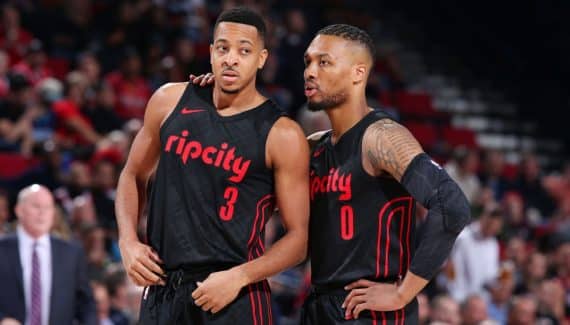 Longtime teammates, for seven seasons between 2015 and 2022, Damian Lillard and CJ McCollum have never faced each other on an NBA court. It should have happened last season, after CJ McCollum was sent to the Pelicans in February. But Damian Lillard was on the injured list.
Currently in full "road trip", the Blazers are in transit to Louisiana and New Orleans for this meeting which will necessarily have a particular flavor for the two men, great friends in the city.
"First of all, I'm always ready for every opportunity to compete against any opponent"says Damian Lillard in The Oregonian. "But in front of him, it will be nice. We are finally in different teams. But it's not like I'm looking forward to challenging CJ. They have a great team. We have a great team. I'm sure it will be a competitive game and we'll see what happens. »
"Seeing him in another jersey is already very weird, but playing against him will be even stranger! »
Welcomed as a hero in Portland on March 30, CJ McCollum will be at home this time to receive his former team, which is running at full speed at this surprising start to the season.
Logically victorious in Charlotte, but not without difficulty, the Blazers will want to keep their momentum, while the Pelicans will hope for their start on the right foot a series of six consecutive games at home.
"It's weird because I've never played against CJ, except for practices", resumes Damian Lillard. "We played a lot against each other in training. Seeing him with another jersey is already very strange but playing against him will be even stranger! »
Repositioned as a leader this season, CJ McCollum should in fact find himself in "mano a mano" against Damian Lillard, a duel that will not lack spice as the routine of the regular season is already beginning to settle. Set your alarm clocks, it will be tonight at 1:00 am!
"We have to face each other, that's how it is!" He plays for New Orleans, I play for Portland. I'm sure they'll want to start strong to win, but on our side, we're not going to let go either. He is a competitor, I know him very well. I know he's played against us before and it's been a while, but I'm sure he'll take this game personally again. »
A mix for the nostalgic