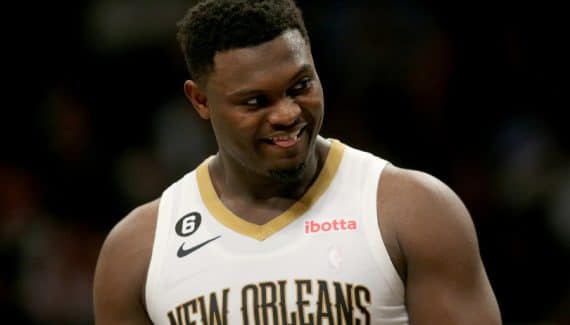 The Pelicans can not align their "Big Three". Brandon Ingram is thus still in the infirmary, blocked by a big toe injury for almost a month, and he will still miss at least the next two games.
Willie Green must now also do without Zion Williamson, in solitary confinement as part of the NBA health protocol linked to Covid-19. The strong winger has therefore undoubtedly tested positive.
The phenomenon will miss the next game against Spurs tonight, and probably also the one in Oklahoma City on Friday. A problem for New Orleans, which remains on four consecutive defeats and which loses its best scorer (25.2 points, 7.2 rebounds, 4.7 assists and 1.2 interceptions on average at 60.3% success rate).
Zion Williamson had also raised his level even further in the absence of Brandon Ingram, amassing 28.6 points, 8.3 rebounds, 6.0 assists, 1.5 steals and 1 against on average at 63.5% success over the 11 games in question.
In any case, the Zion Williamson – Brandon Ingram – CJ McCollum trio have only been able to play 10 games together (out of 30) since the start of the season. That's a total of only 172 minutes spent together on the floor, even though their association has superb efficiency averages (120.9 points scored out of 100 possessions and 104.4 points conceded out of 100 possessions). A glimpse of the trio's tremendous, yet untapped potential.
Zion Williamson
Percentage
Bounces
Season
Team
GM
Minimum
Shots
3 points
LF
Off
Def
Early
pd
party
Int
bp
CT
Points
2019-20
NOP
24
28
58.3
42.9
64.0
2.7
3.6
6.3
2.1
1.8
0.7
2.5
0.4
22.5
2020-21
NOP
61
33
61.1
29.4
69.8
2.7
4.5
7.2
3.7
2.2
0.9
2.7
0.6
27.0
2022-23
NOP
25
33
60.3
33.3
71.3
2.1
5.0
7.2
4.7
2.2
1.2
3.1
0.6
25.2
Total
110
32
60.4
33.3
69.0
2.6
4.4
7.0
3.6
2.1
1.0
2.8
0.6
25.6