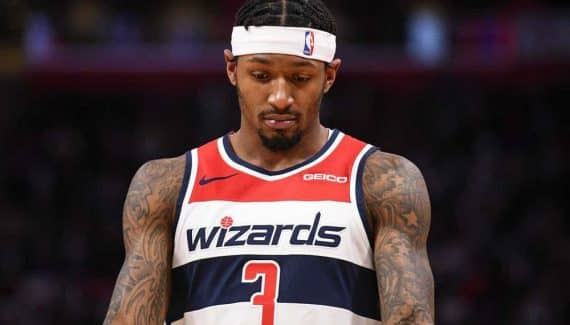 Even if it is the season of return to normal for the NBA in relation to Covid-19, with greatly reduced protocols, Bradley Beal is there to remind us that the virus has not disappeared.
The Wizards have just announced that their back should respect "health and safety protocols" of the league about the Covid-19, and therefore isolate themselves. According to his coach, Wes Unseld Jr, Bradley Beal has indeed experienced some symptoms "light" and so he did a first test, which turned out to be positive. A second test, however, was negative and depending on the results of the next tests, he could come back quite quickly.
Still, whoever extended to the Wizards this summer for $215 million over five years will at least miss the next game against Charlotte, and possibly Washington's final preseason game, against New York.
One more setback for Bradley Beal, who had already missed the Tokyo Olympics… because of the Covid-19.
Bradley Beal
Percentage
Bounces
Season
Crew
GM
Minimum
Shots
3 points
LF
Off
Def
Early
pd
party
Int
bp
CT
Points
2012-13
WAS
56
31
41.0
38.6
78.6
0.8
3.0
3.8
2.5
2.0
0.9
1.6
0.5
13.9
2013-14
WAS
73
35
41.9
40.2
78.8
0.7
3.0
3.7
3.3
2.1
1.0
1.8
0.3
17.1
2014-15
WAS
63
34
42.7
40.9
78.3
0.9
2.9
3.8
3.1
2.2
1.2
2.0
0.3
15.3
2015-16
WAS
55
31
44.9
38.7
76.7
0.8
2.7
3.4
3.0
2.1
1.0
2.0
0.2
17.4
2016-17
WAS
77
35
48.2
40.4
82.5
0.7
2.4
3.1
3.5
2.2
1.1
2.0
0.3
23.1
2017-18
WAS
82
36
46.0
37.5
79.1
0.7
3.7
4.4
4.6
2.0
1.2
2.6
0.4
22.7
2018-19
WAS
82
37
47.5
35.1
80.8
1.1
3.9
5.0
5.5
2.8
1.5
2.7
0.7
25.6
2019-20
WAS
57
36
45.5
35.3
84.2
0.9
3.3
4.3
6.1
2.2
1.3
3.4
0.4
30.5
2020-21
WAS
60
36
48.5
34.9
88.9
1.2
3.5
4.7
4.4
2.3
1.2
3.1
0.4
31.3
2021-22
WAS
40
36
45.1
30.0
83.3
1.0
3.8
4.7
6.6
2.4
0.9
3.4
0.4
23.2
Total
645
35
45.6
37.2
82.1
0.9
3.2
4.1
4.2
2.2
1.1
2.4
0.4
22.1