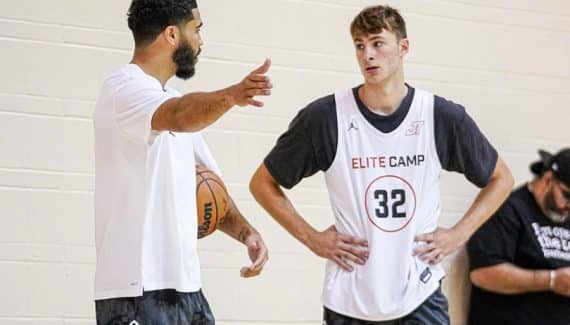 Best high school student in the country, Cooper Flagg already has nothing more to prove at this level and has therefore joined the 2024 age class a year early to access the university ranks more quickly. At 16 years old and standing 2m03 tall, the winger is already the favorite to land the first choice in the 2025 Draft.
During his summer camp, Jayson Tatum was able to take a closer look at the phenomenon originating from the "neighboring" state of Maine, and was visibly won over. Beyond the pure talent demonstrated by Cooper Flagg, JT appreciated his attitude on the field.
" I love her so much ", did he declare. "He's obviously athletic, he can dribble, score. What impressed me was the way he fought on both ends of the court. He has bite, but he is not arrogant. He knows he's good, but he also knows he still has a long way to go. He gets into the guys, he attacks the pros. He tried to block every shot, get every rebound. He didn't play relaxed. He played hard, he fought. He asked a lot of questions, he listened."
Cooper Flagg has also denied the rumor of a clash with Bradley Beal during camp, explaining that he had not played a one-on-one with the Suns player…
The young winger had in any case also distinguished himself earlier in the summer during Stephen Curry's camp. His future seems already mapped out, while his arrival at Duke should soon be made official.