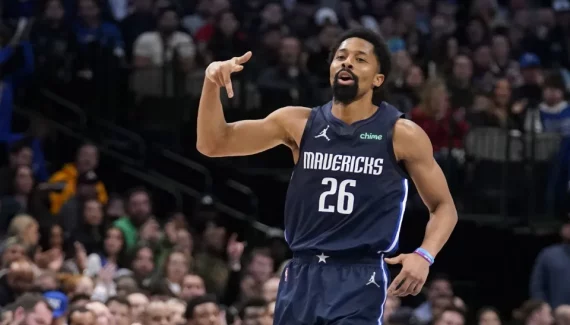 Author of the decisive basket against the Celtics on Sunday evening, Spencer Dinwiddie quickly adapted to his new roster, and so far the Mavericks have had a sniffy picking him up in Washington, in exchange for Kristaps Porzingis. Management wanted to relieve Luka Doncic, both in scoring and creation, and the former Nets point guard responds with more than 17 points on average, and very good percentages for a point guard: 51% from 2-pointers and 44% from 3-pointers. Dinwiddie has never been so skilful in his career, and when he arrived in Texas, he was giving hints about his role.
" You're not going to see me chasing after De'Aaron Fox all over the field" gave as an example. " It wouldn't fit who I am. I am not a full-back who pressures the ball. I can step back and defend one-on-one, but that's not my role and I'm not going to do it. "
Same thing on the other side of the field: "My job in attack is to penetrate and create. I'm going to shoot 3-pointers when the defenseman changes and when I'm open, but I don't just shoot from nine yards like I'm Steph Curry. I do what I do, and I don't do what I'm not supposed to do. "
Like a date that goes well
In half-words, Dinwiddie explained that he was misused at the Wizards and in Dallas, so he finds a more natural role. With Luka Doncic by his side and even Jalen Brunson, he has less pressure on both sides of the pitch, and he can focus on finishing. Listening to him, he even found a "family" in Dallas, or at least an environment to play without a second thought.
" I've been in a lot of places in my career, a lot of different situations. Your work environment can sometimes be compared to a date with a person. You turn to the person who wants you. You want peace in your work environment, you want someone who lets you be yourself. From Cuban, to Kidd, via Luka and Nico (Harrison), we have four leaders in this franchise. They inspire confidence and acceptance of me, and I appreciate that with all my heart."
Spencer Dinwiddie
Percentage
Bounces
Season
Team
GM
Minimum
Shots
3 points
LF
Off
Def
Early
pd
party
Int
bp
CT
Points
2014-15
TED
34
13
30.2
18.5
91.2
0.1
1.3
1.4
3.1
1.6
0.6
1.0
0.2
4.3
2015-16
TED
12
13
35.2
10.0
57.6
0.3
1.1
1.4
1.8
1.7
0.3
0.6
0.0
4.8
2016-17
BRK
59
23
44.4
37.6
79.2
0.5
2.3
2.8
3.1
2.0
0.8
1.1
0.4
7.3
2017-18
BRK
80
29
38.7
32.6
81.3
0.5
2.7
3.2
6.6
2.3
0.9
1.6
0.3
12.6
2018-19
BRK
68
28
44.2
33.5
80.6
0.4
2.1
2.4
4.6
2.8
0.6
2.2
0.3
16.8
2019-20
BRK
64
31
41.5
30.7
77.8
0.5
3.0
3.5
6.8
2.8
0.6
2.7
0.3
20.6
2020-21
BRK
3
21
37.5
28.6
100.0
0.0
4.3
4.3
3.0
1.3
0.7
1.7
0.3
6.7
2021-22 *
All Teams
53
30
40.3
33.2
78.9
0.7
3.6
4.3
5.6
2.4
0.6
1.6
0.2
13.5
2021-22 *
WAS
44
30
37.6
31.0
81.1
0.8
3.9
4.7
5.8
2.4
0.6
1.7
0.2
12.6
2021-22 *
DAL
10
30
52.6
43.5
71.7
0.1
2.3
2.4
4.5
2.5
0.6
1.2
0.2
17.5
Total
374
26
40.9
32.0
79.3
0.5
2.5
3.0
5.1
2.4
0.7
1.7
0.3
13.0