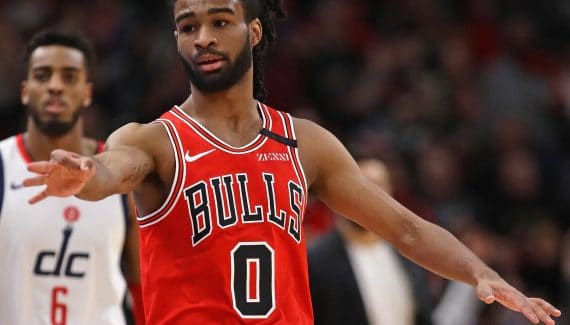 Coby White has been one of the few sunbeams on the Bulls squad for two seasons, establishing himself as one of the most promising youngsters in the Illinois franchise behind Zach LaVine.
But for the first time in his professional career, Coby White is facing a major injury, a tear in the labrum (left shoulder) contracted after the season last June and which required surgery. The beginning of a long process of rehabilitation which did not affect the morale of the player.
"I was playing with my friends at home and I got hit in the shoulder. I had been hit in this place before and felt a bit the same. And after a day or two, I wasn't feeling well. So I came back here for an MRI which showed that I had torn my labrum. I had been hit in the same way before and it was gone. But this time the pain didn't go away ", he told, recalling his first reaction to the announcement of the verdict: "Uh, what's the labrum?" ", he said. "I had never really heard of it. Dr Brian Cole did a good job explaining to me what it was and what the process was going to look like ".
Philosopher as to the timing of his injury
His recovery was estimated to be at least four months and Coby White will miss training camp and the start of the season, although his progress has been significant in recent weeks.
"The staff of the Bulls made sure that it remains pleasant for me to come every day", he added. "Now I can do just about anything on a basketball court. I'm just struggling with my left hand and shooting with the arm above my head. Right now I'm just working on strengthening my shoulder and making it stronger because I haven't been able to use it for a while ".
Whatever happens, Coby White makes sure to stay positive and see the bright side as he waits to get back to the grounds.
"It was frustrating, but the lesser harm was that it didn't happen during the season. The way it turned out shouldn't have happened so easily. So, I guess before that my shoulder was already a bit fragile. But if it were to happen, I preferred it to be like that rather than during the season. There, I only miss a small part of the start of the season. It was a mentally difficult process for me. So me, I strengthened myself mentally and watched a lot of videos, that's all I could really do. Now I'm just starting to get back on the pitch. I have never been away for so long when it comes to basketball. So I focus on strengthening my shoulder and finding rhythm ".
Learn from Lonzo Ball and Alex Caruso
As for the field precisely, Coby White will also have to deal with the adjustments that have occurred in the offseason which have considerably strengthened the Illinois team. Beyond the arrivals of DeMar DeRozan who followed that of Nikola Vucevic last March, the leader sees a good eye the reinforcements of Lonzo Ball and Alex Caruso even if the latter risk to overshadow him on the posts rears.
But for Coby White, it is of course a great opportunity to be able to continue to progress, in addition to being able incidentally to claim to finally win more matches.
" It's great. Lonzo is really going to help the team as a major piece. He is so selfless. As a point guard he is good at defense which is one thing I can learn from him. I can't wait to be in this season. I'm excited he's here and it's going to be a good year for both of us ", he underlined before approaching the Alex Caruso case with the same enthusiasm. "Caruso won a title. So he was in the final and he knows what to do to get there and what kind of team we need to be. So I think the whole team can learn a lot from Caruso, not just me ".
Coby White
Percentage
Rebounds
Season
Team
MJ
Min
Shots
3pts
LF
Off
Def
Early
Pd
Fte
Int
Bp
Ct
Pts
2019-20
CHI
65
26
39.4
35.4
79.1
0.4
3.1
3.5
2.7
1.8
0.8
1.7
0.1
13.2
2020-21
CHI
69
31
41.6
35.9
90.1
0.4
3.7
4.1
4.8
2.6
0.6
2.3
0.2
15.1
2021-22
CHI
11
19
36.5
27.3
71.4
0.3
2.4
2.6
1.5
1.6
0.2
1.0
0.1
7.6
Total
145
28
40.4
35.2
84.2
0.4
3.3
3.7
3.6
2.2
0.6
1.9
0.2
13.7