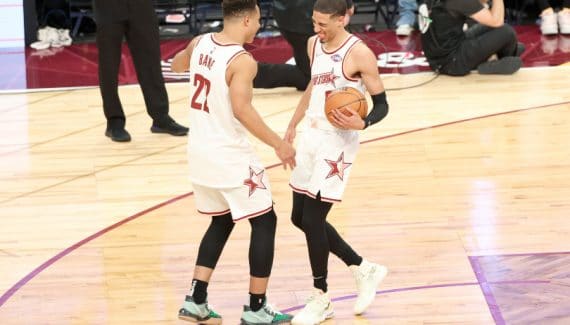 While the "Rising Stars Challenge" has had a facelift this year, the NBA has also decided to include a little novelty on the first day of its All-Star Weekend: a " Clutch Challenge ". Behind this anglicism is actually a mini-tournament, somewhat similar to the old "Shooting Stars Challenge".
The principle is quite simple: four teams of two players each have 90 seconds to reproduce five iconic actions from the history of the league. The five actions in question are the Magic Johnson's "baby hook" (1987)the "Top of the Key" by Charles Barkley (1993)the "From the Wing" by Reggie Miller (1998)the "right-corner 3" by Ray Allen (2013) and the "from the logo" by Damian Lillard (2019).
To validate their passage, each team must succeed in these five legendary shots, in any order, as long as a player does not shoot twice in a row. Quite logically, the fastest of these four doublets to complete her passage leaves with the victory.
Organized between the two semi-finals and the final of the "Rising Stars Challenge", this "Clutch Challenge" pitted the following duos against each other: Tyrese Haliburton & Desmond Bane — Tyrese Maxey & Scottie Barnes — Josh Giddey & Evan Mobley — Jaden Hardy & Michael Foster Jr. (G-League).
Also read: the summary of the "Rising Stars Challenge"
And the least we can say is that this mini-tournament went very quickly, while we regret above all the fact that the players did not deign to imitate a minimum the shots of their glorious elders ( on the "baby-hook" of Magic Johnson, in particular).
Scottie Barnes completely fails!
It was first Josh Giddey and Evan Mobley who got the ball rolling. After starting with a 4/4 on shots, taking advantage of a late clock, the two rookies stumbled on Damian Lillard's final shot, losing a few precious seconds and completing their passage in 49.7 seconds.
Behind, the youngsters of the Ignite Team, Jaden Hardy and Michael Foster Jr, unfortunately could not do better than the passing time of their predecessors. Even if they had two chances to eclipse the time of the Giddey / Mobley tandem, from the "spot" of Damian Lillard, still chosen last.
Then it was Tyrese Haliburton and Desmond Bane who showed up on the course. And they didn't take very long to adapt to the different "spots" of the tournament, scoring their five shots in just… 39.1 seconds! The bar was high, very high even, while there was only one team left behind them…
And that team was that of Scottie Barnes and Tyrese Maxey. Problem: it only took a few seconds to understand that it would not give anything, since the two players proposed an absolutely atrocious passage! Special mention for Barnes, who simply finished at… 0/5 on shots, while he was on the "spot" of Magic Johnson, located closest to the basket!
A failure that will not fail to appear in the next Shaqtin' a Fool, and which therefore allows the pair Tyrese Haliburton – Desmond Bane to triumph, in this "Clutch Challenge"! It remains to be seen if it will be kept for the long term…