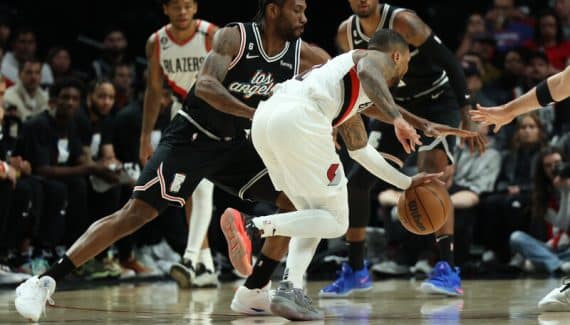 If the Blazers seem to maintain their confidence in Chauncey Billups, their balance sheet however says the opposite at the moment with a sixth defeat in a row, suffered last night at home at the hands of the Clippers who rebounded well after their defeat against the Magic (117- 102).
Even though it would be a question of redouble their efforts to cling to the "play in" wagon, the Blazers are in the process of letting go, like this new setback which does not suffer from any challenge against to Clippers well in place, carried by Paul George (29 points, 9 rebounds) and Kawhi Leonard (24 points).
Suffering a first boost from the Californians, from 18-15 to 30-15, the Blazers managed to come back. But they couldn't run after the score. Their only attempt at a comeback, at 103-97 in the last quarter, ended in further disappointment, with Paul George who handed his team to 108-97 in two beats.
Without Tyronn Lue, ill, who stayed in Los Angeles, the Clippers did not have to force their talent too much with Ivica Zubac (14 points, 10 rebounds) who finished in a double-double, while Russell Westbrook, still very clumsy, he missed the triple-double by one point (9 points, 12 rebounds, 10 assists).
WHAT YOU MUST REMEMBER
– With Kawhi Leonard, it's better! Beaten at home against the Magic before their game tonight in Oregon, the Clippers found their superstar winger, Kawhi Leonard, still deprived of "back to back" games. With him, the Clippers are at 24 wins for 15 losses, a good record confirmed last night with 24 points, 5 rebounds and 2 assists from "The Klaw". In addition to his defensive impact, the winger above all allows LA to have an additional offensive weapon and a much better offensive structure.
– The rout of the Blazers. They will probably soon put Damian Lillard to rest if the results do not follow… We are going straight for Portland! With a sixth defeat in a row, the Blazers let go completely, even though it's time to surpass themselves and try everything to cling to a place in "play in". With their next four games against direct competitors in the Western Conference, namely in Utah and then at home against Chicago, OKC and New Orleans, fans of Rip City will quickly be fixed. A slim hope or curtain!
TOPS/FLOPS
✅ Paul George. Clumsy in the first half with only 3/10 on shots, he was very active when he returned from the locker room with 19 points, 7 rebounds and 4 steals in the second half. He finished with 29 points, 9 rebounds, 4 assists and 4 steals, and the best evaluation of his team.
✅ Eric Gordon. Discreet but effective in the first half, with 7 points in 12 minutes, the back especially signed a 3/3 from 3-pointers in the 3rd quarter to finish at 20 points with a very good 7/9 on shots including 4/ 5 by far. The perfect joker when coming off the bench.
✅ Jusuf Nurkic. With 23 points, 11 rebounds and 5 assists, the Bosnian pivot of the Blazers had a very solid game, his first performance since his return to action on March 9. A little reason for hope for Portland in this difficult time…
⛔️ ✅ Damian Lillard. The boss of the Blazers blew hot and cold on this game. Awkward on shots with only 4/17 overall and 1/8 from 3-pointers, Damian Lillard was still very active with 10 assists and 7 rebounds to match his 21 points.
⛔️ Cam Reddish. Hood in 12 minutes of play, the young Knicks defector winger seems a little physically burnt. Going from the end of the New York bench to a starting place in Portland, he has played a lot in recent weeks and he is feeling the blow.
THE FOLLOWING
LA Clippers (38-34): reception of the Thunder on Tuesday (before playing it again at OKC).
Portland (31-40): short trip to Utah on Wednesday.
Portland

/

102
Shots
Bounces
Players
Minimum
Shots
3 points
LF
O
D
T
pd
party
Int
bp
CT
+/-
Points
Rating
C. Reddish
19
0/2
0/1
0/0
0
2
2
0
2
0
0
2
-10
0
2
J. Nurkic
27
9/14
2/3
3/4
5
6
11
5
3
0
2
2
-21
23
33
D.Lillard
39
4/17
1/8
12/13
1
6
7
10
0
1
4
1
-20
21
22
Mr. Thybulle
23
3/7
0/3
0/0
1
3
4
0
1
0
0
0
-20
6
6
A.Simons
33
6/15
1/7
3/3
1
2
3
5
0
1
2
1
-10
16
15
D. Eubanks
21
5/8
0/0
0/0
2
6
8
3
1
0
1
1
+6
10
18
T.Watford
29
5/9
0/0
2/2
0
3
3
0
3
1
1
0
-1
12
11
N.Little
25
1/4
0/3
2/2
0
1
1
0
3
1
3
1
+1
4
1
S.Sharpe
24
4/6
2/4
0/0
1
0
1
1
1
3
0
1
0
10
14
37/82
6/29
22/24
11
29
40
24
14
7
13
9
102
122
LA Clippers

/

117
Shots
Bounces
Players
Minimum
Shots
3 points
LF
O
D
T
pd
party
Int
bp
CT
+/-
Points
Rating
P.George
35
8/22
3/6
10/12
4
5
9
4
4
4
2
1
+6
29
29
K.Leonard
40
10/20
2/7
2/2
1
4
5
2
1
2
0
0
+23
24
23
Mr. Morris Sr.
24
3/8
1/4
0/0
1
3
4
0
2
1
1
0
+16
7
6
I. Zubac
34
7/11
0/0
0/2
3
7
10
2
1
1
0
0
+26
14
21
R.Westbrook
34
3/12
1/2
2/2
4
8
12
10
1
0
4
0
+13
9
18
N. Batum
16
1/3
1/3
0/0
0
1
1
3
2
1
1
0
-10
3
5
Mr. Plumlee
14
3/6
0/0
1/1
4
1
5
0
3
0
0
0
-11
7
9
E.Gordon
28
7/9
4/5
2/2
1
1
2
1
3
1
0
1
+12
20
23
T. Mann
16
1/3
0/1
2/2
0
1
1
4
1
1
1
1
0
4
8
43/94
12/28
19/23
18
31
49
26
18
11
9
3
117
142