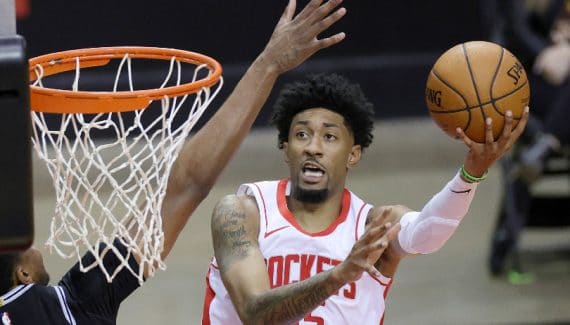 The "trade deadline" can be a complicated period for players to live through, especially those who are regularly mentioned in transfer rumors and who are therefore likely to have to pack their bags.
In Houston, two players symbolize the way we can see things. Often mentioned as a possible bargaining chip, Eric Gordon no longer takes offense. The veteran would also perhaps not take a dim view of a transfer to a competitive team, even if he assures that he feels good in his role in Houston.
Conversely, Christian Wood finds it difficult to ignore it.
" I try not to think about it. I saw it. We are all human. I happened to go to Bleacher Report or Hoopshype and see my name. I don't really think about it. I got involved with this organization, and I know they got involved with me. I gave them everything. They gave me everything, too. I am honored and blessed to be here. I'm just waiting for the trade deadline to pass. " Probably to breathe better.
It must be said that Christian Wood was involved in only one exchange, and it was the "sign-and-trade" which allowed him to join the Rockets, and which was therefore his wish.
"Other than that, I was not involved in any trading. This is my first year in rumors. I'm not really a fan of it. I do not want it anymore. It's my house. This is where I want to be. I told (Stephen) Silas, Tilman (Fertitta) Pat (Fertitta) and Raf (Stone) and they feel the same way about me. "
But feelings are not everything in the NBA, and Stephen Silas confirms that he avoids discussing this subject with his players. Son of Paul Silas, he's been in the league too long to make any promises.
"I don't talk about it. My dad (Paul Silas) had told a few guys that they weren't going to be traded and that they shouldn't worry about the trade deadline, and they ended up getting traded. I know there are guys who think about it. From my point of view, it is difficult to reassure them or not. So I don't talk about it. "
Christian Wood
Percentage
Bounces
Season
Team
GM
Minimum
Shots
3 points
LF
Off
Def
Early
pd
party
Int
bp
CT
Points
2015-16
PHL
17
9
41.5
36.4
61.9
0.8
1.5
2.2
0.2
0.7
0.3
0.1
0.4
3.6
2016-17
CHA
13
8
52.2
0.0
73.3
1.1
1.2
2.2
0.2
0.9
0.2
0.5
0.5
2.7
2018-19 *
All Teams
21
12
52.1
34.6
73.2
0.8
3.1
4.0
0.4
0.8
0.3
0.8
0.5
8.2
2018-19 *
MIL
13
5
48.0
60.0
66.7
0.3
1.2
1.5
0.2
0.2
0.0
0.2
0.0
2.9
2018-19 *
NOP
8
24
53.3
28.6
75.6
1.6
6.3
7.9
0.8
1.8
0.9
1.8
1.3
16.9
2019-20
TED
62
21
56.7
38.6
74.4
1.7
4.6
6.3
1.0
1.6
0.6
1.4
0.9
13.1
2020-21
HOO
41
32
51.4
37.4
63.1
1.9
7.8
9.6
1.7
2.2
0.8
2.0
1.2
21.0
2021-22
HOO
48
31
48.5
37.0
62.3
1.7
8.6
10.3
2.2
2.4
0.8
1.9
0.9
17.7
Total
202
23
51.6
37.1
67.4
1.5
5.6
7.1
1.2
1.7
0.6
1.4
0.8
13.8