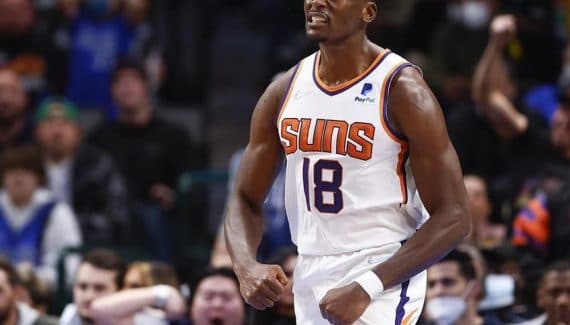 He will not remain a "medical joker" for long. One game was enough for Bismack Biyombo to convince the Suns leaders, and since signing a contract until the end of the season, the former Hornets and Magic pivot continues to do an excellent job. Last night, taking over from a struggling JaVale McGee, he had a great second half, even to the point of being decisive in the "money time" against Dallas.
On arrival, one more victory for the Suns, and a very correct line of stats with 9 points, 4 rebounds and 2 steals in 28 minutes. Bismack Biyombo went for free throws and offensive rebounds, and his good relationship with Chris Paul allows him to be often well placed near the circle. Same thing in defense where we saw him steal a ball from the hands of Luka Doncic, then Kristaps Porzingis.
"Biz is so strong! It was a shame he was no longer in the NBA" confides Chris Paul, who knows him rather well since they have long rubbed shoulders with the players' union. On the basketball front, that same Chris Paul called Kyle Lowry to give him some tips on how to use Bismack Biyombo.
In 11 years of career, he had never been so effective!
On the side of the coach, we are delighted to be able to count on such a joker. Deandre Ayton absent, Bismack Biyombo brings more defense and craft, and when JaVale McGee is not having a good night, he responds at short notice. "We needed rebounds because we were getting our behinds kicked "explained Monty Williams after the victory against Spurs, and the" double-double "of the Congolese. " Now Jalen Smith is taking rebounds but Spurs had some guys down there who could stray a little bit and Bismack is bringing us a bit more stature. "
However, you should not believe that Bismack Biyombo is essential. When Deandre Ayton is there, he plays little or not at all. But the Suns know he's there when called upon, and he's an invaluable resource when all the big guns are having a hard time. Except the Suns who widened the gap.
" We keep focusing on the little things, and I think the most important thing for me is to keep learning those little things from my teammates, the systems, our defensive patterns." concludes Bismack Biyombo. "Just to identify things, to keep progressing and improving. I'm so grateful to be in a situation where everyone understands what they have to do, and is aware of the goal to be achieved. "
The craziest thing is that Bismack Biyombo had never been so successful in his 11-year career. Since he arrived at the Suns, and he can count on the caviars of Chris Paul, he averages 8.6 points on 69% on shots in 19 minutes. All with 6 rebounds, 1.1 blocks and 0.9 steals on average. Difficult to do more profitable and that bodes well for a great second part of his career since he is only 29 years old!
Bismack Biyombo
Percentage
Bounces
Season
Team
GM
Minimum
Shots
3 points
LF
Off
Def
Early
pd
party
Int
bp
CT
Points
2011-12
CHA
63
23
46.4
0.0
48.3
1.8
4.1
5.8
0.4
2.3
0.3
1.1
1.8
5.2
2012-13
CHA
80
27
45.1
0.0
52.1
2.4
4.9
7.3
0.4
2.4
0.4
1.0
1.8
4.8
2013-14
CHA
77
14
61.1
0.0
51.7
1.4
3.4
4.8
0.1
1.6
0.1
0.5
1.1
2.9
2014-15
CHA
64
19
54.3
0.0
58.3
2.5
3.9
6.4
0.3
2.2
0.3
0.8
1.6
4.8
2015-16
TOR
82
22
54.2
0.0
62.8
2.2
5.8
8.0
0.4
2.7
0.2
0.9
1.6
5.5
2016-17
ENT
81
22
52.8
0.0
53.4
1.9
5.1
7.0
0.9
2.5
0.3
1.2
1.1
6.0
2017-18
ENT
82
18
52.0
0.0
65.0
1.8
4.0
5.7
0.8
1.9
0.3
1.0
1.2
5.7
2018-19
CHA
54
15
57.1
0.0
63.7
1.5
3.1
4.6
0.6
1.9
0.2
0.6
0.8
4.4
2019-20
CHA
53
19
54.3
0.0
60.3
2.3
3.6
5.8
0.9
2.2
0.2
0.9
0.9
7.4
2020-21
CHA
66
20
58.7
0.0
44.8
2.1
3.2
5.3
1.2
2.1
0.3
1.1
1.1
5.0
2021-22
PHX
6
17
68.8
0.0
50.0
2.8
3.5
6.3
0.8
1.8
0.7
0.7
1.3
8.5
Total
708
20
52.9
0.0
56.5
2.0
4.2
6.2
0.6
2.2
0.3
0.9
1.3
5.2