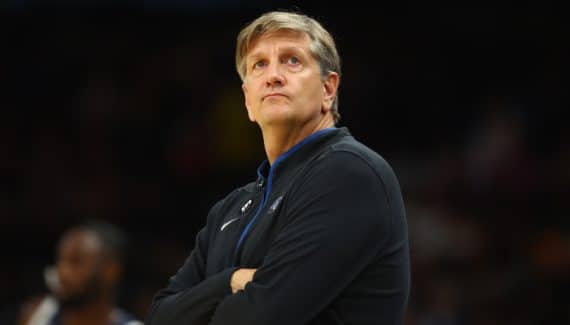 If they remained on four consecutive victories, the Wolves did not really excite their fans. Their streak was partly linked to weakened opponents, and the public expressed their displeasure with the level displayed by their players. Even to the point of annoying Rudy Gobert…
The convincing victory against the Pacers (115-101), who also chained the victories, is therefore something to please Chris Finch. "I just told the guys: it's our best performance of the season, without a doubt! » thus dropped the coach, whose team returned to the Top 8 in the West (10 wins – 8 losses).
And for good reason, with a major five in tune, between 15 and 23 points, including three "double-doubles" for D'Angelo Russell (15 points, 12 assists), Rudy Gobert (21 points, 16 rebounds) and Karl-Anthony Towns (23 points, 11 rebounds, 8 assists), the Wolves dominated their subject against a Pacers team yet on a good dynamic.
"It's very, very pleasant"resumes Chris Finch in the Star Tribune. "An excellent performance by the team. The guys were focused from start to finish. We hope this is another step in the right direction, with many more to come. »
A truly major starting five
All at 50% success, the holders of Minny are gradually beginning to find a collective chemistry. While he hadn't had a single shot in the previous match, Rudy Gobert this time was well supplied with good balls under the circle. Even Anthony Edwards managed to find the "Stifle Tower" near the basket…
"We understand the value of Rudy on both sides of the field. He is a huge threat to the circle. He attracts a lot of faults. He is huge for us defensively. It all takes time [à se mettre en place] », specifies Chris Finch. "Every time the starters play together, they get better and better. [Hier] evening, they were really very good collectively. »
Not necessarily super convincing in their four previous victories, with gaps that melted like snow in the sun in the last quarter, the Wolves this time managed to win with much more serenity against the Pacers. Thanks in particular to the undermining work carried out by Jaden McDaniels (18 points, 4 blocks, 3 assists) on Tyrese Haliburton, held at 4/15 on shots (but still 14 assists) for only 10 points.
"Jaden is one hell of a talent", blows Austin Rivers. "I didn't realize how good he was until I played with him. I knew he was good, but while playing with him, I saw some pretty mind-blowing stuff. He has qualities that cannot be taught. Jaden is a huge player, a potential starter in 99% of the NBA. He is a very big player. »
End-to-end concentrates
If his 11 points, 3 average rebounds will not put you on your back, Jaden McDaniels is indeed one of the key players in the Wolves system with his versatility and length to complete the XXL racquet formed by Rudy Gobert and Karl-Anthony Towns. An inner pair that finds its bearings in the heart of winter.
"It's really fun to have to set the tone in every game," confirms Rudy Gobert. "I thought Karl had done a very good job and I tried to be more aggressive [offensivement]. »
At 60% on shots (47/78) against 38% for the Pacers (37/96), Minnesota managed to maintain its defensive pressure throughout the game, making the difference definitively in the third quarter, with 9 points of in a row for KAT. Everyone rolled up their sleeves in defense, even D'Angelo Russell (with 3 interceptions).
"From start to finish, we could feel we were the best team," concludes Austin Rivers. "While at the start of the season, we were much more victims of the changing winds, a little more disorderly, [hier] evening, we were consistent from start to finish. The precision was there, the concentration was there. »
Shots
Bounces
Players
GM
Minimum
Shots
3 points
LF
Off
Def
Early
pd
bp
Int
CT
party
Points
Anthony Edwards
17
36.3
45.6
34.8
68.9
0.5
5.4
5.8
3.9
3.1
1.3
0.4
2.9
22.1
Karl Anthony Towns
17
34.3
51.6
35.4
90.0
1.7
7.2
8.9
5.3
2.9
0.7
0.6
3.9
21.5
D'angelo Russell
17
30.3
41.5
31.6
75.6
0.6
2.6
3.3
6.2
2.7
1.2
0.6
1.8
13.8
Rudy Gobert
15
32.0
61.9
0.0
70.9
3.9
8.4
12.3
0.9
1.4
0.7
1.5
3.1
13.1
Jaden Mcdaniels
17
30.2
53.9
36.7
76.5
1.5
2.0
3.5
1.3
1.5
1.2
1.2
3.6
11.5
Jaylen Nowell
17
16.7
41.1
28.8
77.3
0.5
2.0
2.5
2.1
0.9
0.5
0.1
1.4
10.0
Taurean Prince
17
20.0
50.0
39.6
86.4
0.4
2.2
2.6
1.2
1.2
0.3
0.2
2.5
8.1
Naz Reid
12
12.2
56.1
30.4
72.2
0.6
2.2
2.8
0.6
0.7
0.3
0.7
2.1
7.8
Kyle Anderson
12
19.6
51.9
42.9
83.3
0.5
2.7
3.2
2.8
0.9
1.0
0.6
1.2
6.3
Jordan McLaughlin
15
15.8
43.4
24.1
100.0
0.3
1.3
1.6
3.7
0.6
0.8
0.1
0.4
3.9
Bryn Forbes
9
10.1
29.0
25.0
100.0
0.3
0.2
0.6
0.9
0.3
0.8
0.0
0.7
2.9
Aj Lawson
1
1.8
100.0
0.0
0.0
0.0
1.0
1.0
0.0
0.0
0.0
0.0
1.0
2.0
austin rivers
7
6.2
22.2
20.0
100.0
0.0
0.6
0.6
0.3
0.1
0.0
0.1
0.1
1.3
Nathan Knight
6
2.5
50.0
0.0
100.0
0.0
0.8
0.8
0.0
0.3
0.3
0.0
0.3
0.5
Wendell Moore, Jr.
1
2.5
0.0
0.0
0.0
0.0
0.0
0.0
0.0
1.0
0.0
0.0
0.0
0.0