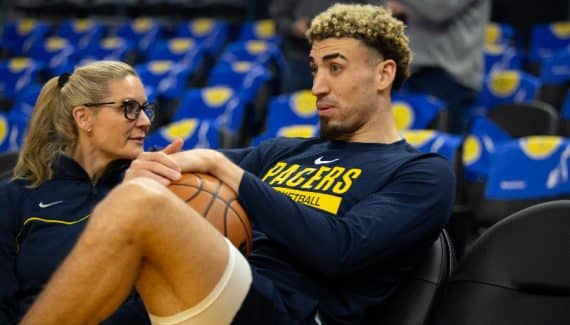 The connection between Indiana and Sacramento continues to operate well since The Athletic announces that the Pacers are about to trade Chris Duarte to the Kings, in exchange for draft picks. A transaction that would take place less than 18 months after the arrival of Domantas Sabonis in Sacramento, in exchange for Buddy Hield and Tyrese Haliburton.
Thirteenth choice of the 2021 Draft, the Canadian had been one of the revelations of his vintage to the point of winning a selection in the Second All-Rookie Team. Its second season was less convincing. Victim of a big ankle sprain, he never managed to start his season, and he even made a move to the G-League.
For Indiana, the maneuver would be essentially financial since it now allows them to have an envelope of 36 million dollars to recruit. We thus evoke a strong interest in Bruce Brown Jr., and the Pacers have the means to offer him much more than the Nuggets or even the Lakers. Another target player: Max Strus, and there is talk of a "sign-and-trade" with the Heat. Without forgetting Grant Williams, protected free agent of the Celtics.
Chris Duarte
Percentage
Bounces
Season
Crew
GM
Minimum
Shots
3 points
LF
Off
Def
Early
pd
party
Int
bp
CT
Points
2021-22
IND
55
28
43.2
36.9
80.4
0.8
3.4
4.1
2.1
1.7
1.0
1.6
0.2
13.1
2022-23
IND
46
20
36.9
31.6
84.7
0.4
2.1
2.5
1.4
1.4
0.5
0.9
0.2
7.9
Total
101
24
41.0
34.7
82.1
0.6
2.8
3.4
1.8
1.6
0.8
1.3
0.2
10.7
How to read the stats? MJ = matches played; Min = Minutes; Shots = Shots made / Shots attempted; 3pts = 3-points / 3-points attempted; LF = free throws made / free throws attempted; Off = offensive rebound; Def= defensive rebound; Tot = Total bounces; Pd = assists; Fte: Personal fouls; Int = Intercepts; Bp = Lost bullets; Ct: Counters; Points = Points.