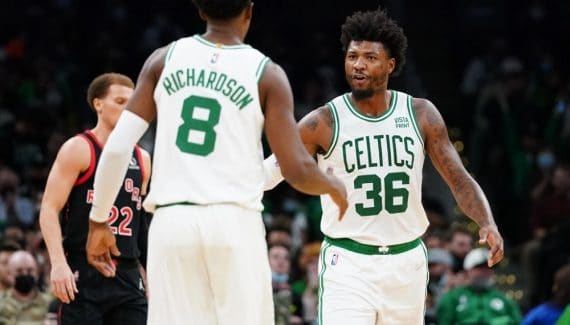 With a defense that had worked wonders in Florida, against Orlando and Miami, Boston was eagerly awaiting a Toronto team just as solid in this area since the Raptors exist in particular thanks to their enormous defensive activity and their repeated efforts. This meeting was therefore not going to be a firework of points.
It was the Celtics who won this duel with authority (104-88), to confirm that over the last four games, they have the best defense (93.9 points conceded out of 100 possessions, only 88 points taken on average) in the league. .
"We were fed up with getting our butt kicked, that's our attitude", explains Marcus Smart at Mass Live to justify this defensive renewal. "It shows, we fight for 48 minutes. Last time the Raptors came and crushed us. We wanted to make sure it didn't happen again. We defend really well, after having started badly, but our chemistry improves. "
The click after the words of Marcus Smart?
Ime Udoka's men managed to secure their rebound, leaving the Canadians just 6 offensive rebounds, while they usually average double that. And the Canadians deserved their baskets, because the defense was there to challenge the attempts of Nick Nurse's men.
"We are united. We understood the intensity and the effort required to win night after night ", notes the Celtics coach. "We're starting to get closer off the pitch, we're getting to know each other"adds Robert Williams. "We bond and I know I can go to war with these guys by my side. "
With three wins in four matches (the only defeat was against the Mavericks, with a buzzer shot from Luka Doncic), the Celtics have regained their colors in recent days. Precisely since the release of Marcus Smart on Jaylen Brown and Jayson Tatum. Comments that the leader has also evacuated when asked about it after this victory against Toronto.
We also remember that Brad Stevens had come to extinguish the fire and that a short meeting between the players had taken place. First described as unproductive by ESPN, it must be noted that the Celtics are not the same since this episode, which followed a big setback against the Bulls.
We must now confirm, still without Jaylen Brown (injured and absent for a few days), with the reception of the Bucks then a trip to Cleveland for two games in a row against the Cavaliers.
Shots
Rebounds
Players
MJ
Min
Shots
3pts
LF
Off
Def
Early
Pd
Bp
Int
Ct
Fte
Pts
Jayson tatum
32
36.6
41.9
32.6
82.1
1.1
7.5
8.6
3.8
2.8
1.0
0.8
2.5
25.6
Jaylen brown
18
32.9
46.2
38.9
77.4
0.7
4.6
5.3
2.7
2.7
1.2
0.4
2.6
22.4
Dennis schroder
29
32.3
42.5
32.8
89.0
0.6
2.9
3.4
4.7
2.4
0.9
0.1
2.5
16.3
Al horford
24
29.6
45.3
29.5
85.7
1.5
6.3
7.8
3.5
1.0
0.8
1.5
2.2
12.2
Josh richardson
22
25.2
47.5
40.5
81.4
0.6
2.3
2.9
1.4
0.7
0.7
0.5
2.0
10.7
Marcus Smart
31
34.2
38.7
28.4
75.0
0.6
3.3
3.9
5.5
1.9
2.1
0.3
2.4
10.7
Robert williams
24
28.0
74.3
0.0
61.4
3.5
4.8
8.3
1.4
1.2
0.8
1.7
1.8
9.8
Grant williams
28
22.1
51.1
45.3
86.7
0.6
2.8
3.4
1.0
0.6
0.4
0.6
2.0
7.5
Romeo langford
25
18.6
41.6
35.4
68.8
1.0
2.3
3.3
0.5
0.5
0.4
0.2
1.4
4.9
Enes Kanter
21
13.1
51.9
25.0
80.0
2.4
3.2
5.6
0.2
0.7
0.2
0.5
1.3
4.7
Jabari parker
9
9.3
51.9
55.6
100.0
0.4
1.8
2.2
0.4
0.6
0.3
0.1
1.2
4.6
Payton pritchard
26
11.0
34.7
34.4
100.0
0.3
1.1
1.4
1.5
0.7
0.1
0.1
0.7
3.7
Aaron Nesmith
27
10.9
35.2
23.8
77.8
0.3
1.4
1.7
0.4
0.6
0.3
0.0
1.4
3.2
Joe johnson
1
1.9
100.0
0.0
0.0
0.0
0.0
0.0
0.0
0.0
0.0
0.0
0.0
2.0
Justin jackson
1
1.9
0.0
0.0
100.0
0.0
0.0
0.0
0.0
0.0
0.0
0.0
0.0
2.0
Sam hauser
3
2.3
33.3
33.3
0.0
0.0
0.7
0.7
0.0
0.0
0.3
0.0
0.3
1.0
Juancho Hernangomez
15
4.2
22.2
16.7
80.0
0.4
0.7
1.1
0.1
0.4
0.3
0.0
0.3
0.9
Bruno Fernando
10
2.7
66.7
0.0
0.0
0.2
0.2
0.4
0.1
0.4
0.0
0.2
0.4
0.4
Cj Miles
1
1.9
0.0
0.0
0.0
0.0
0.0
0.0
0.0
0.0
0.0
0.0
1.0
0.0
Brodric Thomas
4
1.9
0.0
0.0
0.0
0.2
0.0
0.2
0.0
0.5
0.0
0.0
0.0
0.0