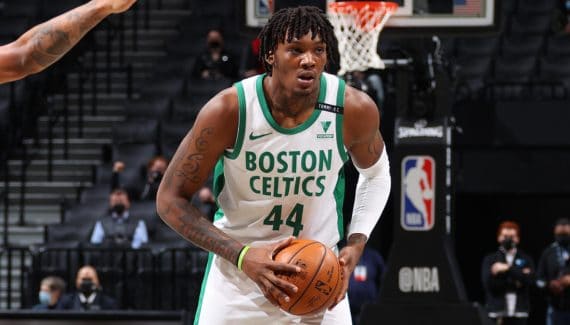 As the "trade deadline" approaches, things are stirring behind the scenes and Boston is one of the franchises where we can expect change, the formation of Ime Udoka having marked this exercise above all by its irregularity.
While Brad Stevens did not really give a clear lead as to the intentions of the Celtics, the various "insiders" such as Shams Charania (The Athletic), Steve Bulpett (Heavy) and Michael Scotto (HoopsHype) gave a little more details. .
To start, among the players likely to move, Boston could agree to let go of Payton Pritchard, Aaron Nesmith and / or Romeo Langford. Which means that other elements likely to weigh in the balance, such as a Grant Williams, would not be affected.
Huge potential with plenty of room for improvement
This is also the case of Robert Williams III, who would arouse the interest of a lot of franchises in the NBA but that the Celtics would not be willing to let go. A rather logical battle plan as the 24-year-old pivot, extended to 48 million dollars this summer, is one of the players of the future on whom Boston intends to rely, and who could be summed up as follows: great potential with a good room for improvement.
All the lights are green for him if we put aside his injury-related stoppages. For the rest, he is doing well, even if he is still a little shy (or not used enough?) in attack compared to what he could bring, especially with regard to his percentage of address (73.8% in only 5.9 attempts per game)
For Jaylen Brown, no doubt as for the rest of the franchise, the advent of Robert Williams III is only a question of time, development and confidence.
"Rob is exceptional. Sometimes he puts a lot of pressure on himself, a bit like me in a way. But when he's playing his best basketball, there aren't many people who can contain him." he recently said. "We need him to be as consistent as possible. I tell him all the time, 'Don't be afraid to be awesome'. "
Robert Williams
Percentage
Bounces
Season
Team
GM
Minimum
Shots
3 points
LF
Off
Def
Early
pd
party
Int
bp
CT
Points
2018-19
BOS
32
9
70.6
0.0
60.0
0.8
1.7
2.5
0.2
1.1
0.3
0.3
1.3
2.5
2019-20
BOS
29
13
72.7
0.0
64.7
1.4
3.0
4.4
0.9
1.8
0.8
0.7
1.2
5.2
2020-21
BOS
52
19
72.1
0.0
61.6
2.6
4.3
6.9
1.8
2.0
0.8
1.0
1.8
8.0
2021-22
BOS
37
30
73.7
0.0
68.9
3.9
5.4
9.2
1.9
2.2
0.8
1.3
2.1
9.8
Total
150
18
72.6
0.0
64.5
2.3
3.8
6.1
1.3
1.8
0.7
0.9
1.6
6.7