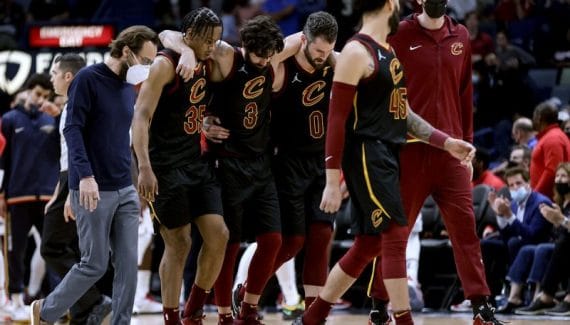 Victim of a ruptured cruciate ligament in his knee, Ricky Rubio is already out of action for the rest of the season, and the Cavaliers have therefore obtained a "Disabled Player Exception" in order to replace it.
This is equivalent to 50% of the leader's contract, or 8.9 million dollars, and is usable until March 10.
An envelope that can allow the franchise to recover a player during the "trade deadline", in order to try to play spoilsports at the end of the season, the Cavs currently being 3rd in the East!
Tea #cavs have been granted a disabled player exception worth $8.9 million for the season-ending injury to Ricky Rubio, sources tell @TheAthleticNBA. March 10 is the deadline to use the DPE.

— Kelsey Russo (@kelseyyrusso) January 27, 2022
Disabled Player Exception : when a franchise loses a player for a long period, it can ask the NBA to take advantage of an additional envelope to recruit a player. This "derogation", granted after a study of the medical file, makes it possible not to count the salary of the injured player, and to offer a contract to his replacement for an amount equal to 50% of the salary of the injured player. With this envelope, you can sign a free player or a player on the cut list, but also make a transfer. The duration of the contract of the player acquired by this exception cannot exceed one year, and with this envelope, only one player can be acquired.
Ricky Rubio
Percentage
Bounces
Season
Team
GM
Minimum
Shots
3 points
LF
Off
Def
Early
pd
party
Int
bp
CT
Points
2011-12
MIN
41
34
35.7
34.0
80.3
0.5
3.7
4.2
8.2
2.4
2.2
3.2
0.2
10.6
2012-13
MIN
57
30
36.0
29.3
79.9
0.8
3.3
4.0
7.3
2.5
2.4
3.0
0.1
10.7
2013-14
MIN
82
32
38.1
33.1
80.2
0.7
3.4
4.2
8.6
2.7
2.3
2.7
0.1
9.5
2014-15
MIN
22
32
35.6
25.5
80.3
0.9
4.8
5.7
8.8
2.7
1.7
2.9
0.1
10.3
2015-16
MIN
76
31
37.4
32.6
84.7
0.5
3.8
4.3
8.7
2.6
2.1
2.5
0.1
10.1
2016-17
MIN
75
33
40.2
30.6
89.1
0.9
3.2
4.1
9.1
2.7
1.7
2.6
0.1
11.2
2017-18
UTH
77
29
41.8
35.2
86.6
0.6
4.0
4.6
5.3
2.7
1.6
2.7
0.1
13.1
2018-19
UTH
68
28
40.4
31.1
85.5
0.5
3.1
3.6
6.1
2.7
1.3
2.7
0.2
12.7
2019-20
PHX
65
31
41.5
36.1
86.3
0.7
4.0
4.7
8.8
2.6
1.5
2.7
0.2
13.0
2020-21
MIN
68
26
38.8
30.8
86.7
0.4
2.9
3.3
6.4
2.0
1.4
1.6
0.1
8.6
2021-22
KEY
34
29
36.3
33.9
85.4
0.4
3.7
4.2
6.6
2.2
1.4
2.7
0.2
13.1
Total
665
30
38.9
32.6
84.3
0.6
3.5
4.2
7.6
2.5
1.8
2.6
0.1
11.1