Basketball News
Caris LeVert remains hopeful for the Pacers' second half of the season | NBA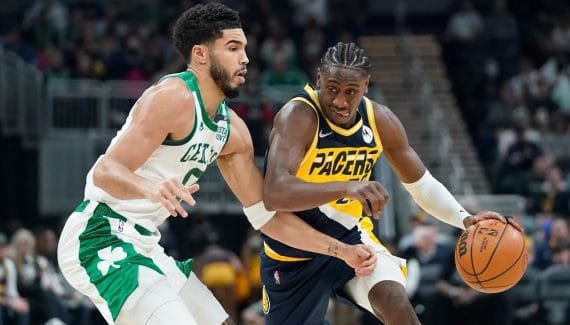 While he averaged 25.5 points in the second half of December, Caris LeVert had experienced the same misfortune as many others: he had entered the health protocol. Result: he had not yet played in 2022 and returned to the courts on Wednesday evening, against Boston.
Inevitably, after more than ten days without putting on the shoes, the winger was not in his best shape, but he still scored 16 points at 6/9 in the shoot and delivered 4 assists. "It feels good to be back with my teammates", he explained at the Indy Star. "Being in solitary confinement is obviously difficult for everyone. »
Except that despite his contribution, Caris LeVert failed to stem the bad pass of the Pacers, who lost against the Celtics and have won only three matches for a month, for eleven defeats…
The weeks go by and Indiana still skates as much, with a 13th place in the East and six successes behind 10th place, which opens the way to the "play-in".
"The positive thing about the NBA is the 82 games, so there are 40 games left", announcement to reassure the Brooklyn elder. "Therefore, there are still a lot of games to play to correct what we did wrong in the first part of the season. We have time to do that. But you'll have to get on with it. »
The problem is that at the beginning of December, Caris LeVert had made the same remarks and nothing was settled afterwards. We can therefore ask ourselves the question: will Rick Carlisle's players have the necessary resources to reverse the trend and do better in the second half of the season?
"We can either tell ourselves that we are in the tough situation at the moment, or look at it and tell ourselves that there are still games to be played", replies Caris LeVert. "We are experienced and mature enough to lean towards this second option. We talk a lot about what we have to do, but everyone knows it. Now is the time, I think, to look individually in the mirror and to take action. »
Caris LeVert
Percentage
Bounces
Season
Team
GM
Minimum
Shots
3 points
LF
Off
Def
Early
pd
party
Int
bp
CT
Points
2016-17
BRK
57
22
45.0
32.1
72.0
0.4
2.9
3.3
1.9
1.6
0.9
1.0
0.1
8.2
2017-18
BRK
71
26
43.5
34.7
71.1
0.8
2.9
3.7
4.2
2.2
1.2
2.2
0.3
12.1
2018-19
BRK
40
27
42.9
31.2
69.1
0.9
2.9
3.8
3.9
1.9
1.1
1.7
0.4
13.7
2019-20
BRK
45
30
42.5
36.4
71.1
1.1
3.1
4.2
4.4
1.8
1.2
2.6
0.2
18.7
2020-21 *
All Teams
47
32
44.1
32.6
81.1
0.7
3.9
4.6
5.2
2.2
1.4
2.2
0.6
20.2
2020-21 *
IND
35
33
44.3
31.8
82.2
0.7
4.0
4.6
4.9
2.4
1.5
2.2
0.7
20.7
2020-21 *
BRK
12
28
43.5
34.9
76.5
0.8
3.5
4.3
6.0
1.7
1.1
2.2
0.5
18.5
2021-22
IND
28
30
43.1
31.0
79.6
0.6
2.6
3.3
4.0
2.1
1.0
1.8
0.5
17.8
Total
288
27
43.5
33.3
73.9
0.7
3.1
3.8
3.9
2.0
1.1
1.9
0.3
14.5