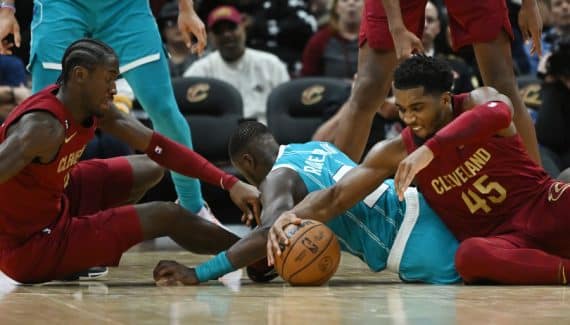 Who was going to be Cleveland's starting winger alongside Darius Garland, Donovan Mitchell, Evan Mobley and Jarrett Allen? Many were waiting for Isaac Okoro, to balance the five major by bringing defense alongside the "backcourt" but it was finally Caris LeVert who had inherited the place during the "training camp".
Except that it did not last and, after five defeats marked by very worrying defensive performances, JB Bickerstaff has already changed his tune and replaced Caris LeVert on the bench, to establish Lamar Stevens.
"We're not playing winning basketball right now. It's as simple as that ", explained the coach ahead of this change. "We have put in place a formula that allows us, and will allow us, to succeed. What we need to do is hold each other to it. For the moment, this is not the case. It's my responsibility to seek out and find the guys who are most willing to play the way we want to play, who will help us succeed. That's what we will do. Does this change my opinion of our team? No. I love all these guys equally. But it's our responsibility to do what's best for the team and find the guys who are going to play the way we need to play. »
Lamar Stevens rather than Isaac Okoro
Caris LeVert therefore finds the bench, and a more natural role as a back, and above all he will no longer evolve with the Garland / Mitchell tandem, in order no doubt to be able to have the ball in hand more.
But to replace him, JB Bickerstaff did not opt ​​for Isaac Okoro, but for Lamar Stevens.
"Each year, he earns his place on the floor"detailed the coach on this duty winger (1m98), who averages 5.3 points and 2.5 rebounds in his career. "He deserves this opportunity. It's early in the season and we're still trying to figure out groups, rotations and that kind of thing. Injuries play a role, but he's a rotation player. I just have to find a way to get him on the pitch."
So it will be in the five. For the first, against the Hornets, the change was not really spectacular, with a complicated victory in overtime against the Hornets. Lamar Stevens (3 points at 1/5) also finished the match with the worst +/- (-15) of his team, when Caris LeVert finished with 4 points at 1/8 as a substitute.
lamar stevens
Percentage
Bounces
Season
Crew
GM
Minimum
Shots
3 points
LF
Off
Def
Early
pd
party
Int
bp
CT
Points
2020-21
KEY
40
13
45.6
16.0
72.5
0.6
1.8
2.4
0.6
1.3
0.4
0.6
0.3
4.1
2021-22
KEY
63
16
48.9
27.7
70.7
0.8
1.9
2.6
0.7
1.7
0.5
0.7
0.3
6.1
2022-23
KEY
5
17
40.0
40.0
90.0
1.0
1.4
2.4
0.2
1.8
0.0
0.2
1.0
6.2
Total
108
15
47.5
25.3
72.8
0.7
1.8
2.5
0.7
1.6
0.4
0.6
0.3
5.4