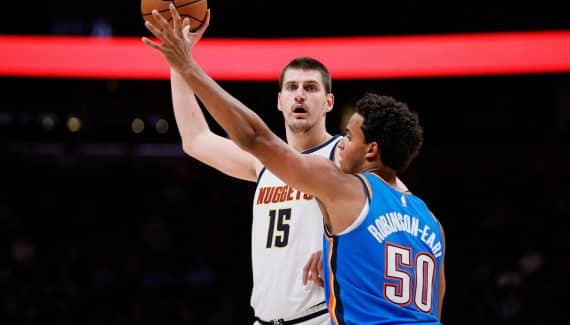 Almost two weeks ago, against Oklahoma City, Nikola Jokic tied Wilt Chamberlain after recording his 78th career triple-double. It was therefore only a matter of days before seeing the Denver pivot overtake him.
It's done, again against the Thunder. With 15 points, 13 rebounds and 13 assists, the reigning double MVP now has 79 triple-doubles on the clock. He therefore takes 6th place alone in this ranking, still dominated by Russell Westbrook.
By relegating the 100-point man to seventh place, Nikola Jokic becomes the most prolific triple-double pivot in NBA history. As a souvenir of this historic evening, his teammates all signed the match ball.
" It's pleasant "reacted Nikola Jokic, still not very talkative, for the Denver Post. "It's not just my success, because I can't do anything without my teammates. So when I find this ball in a cupboard one day, I can remember the ones I've played with. »
1. Russell Westbrook- 194
2. Oscar Robertson- 181
3. Magic Johnson – 138
4. Jason Kidd – 107
5. LeBron James – 105
6. Nikola Jokic – 79
7. Wilt Chamberlain – 78
8. James Harden – 69
9. Larry Bird- 59
10. Luka Doncic – 46
Nikola Jokic
Percentage
Bounces
Season
Crew
GM
Minimum
Shots
3 points
LF
Off
Def
Early
pd
party
Int
bp
CT
Points
2015-16
DEN
80
22
51.2
33.3
81.1
2.3
4.7
7.0
2.4
2.6
1.0
1.3
0.6
10.0
2016-17
DEN
73
28
57.8
32.4
82.5
2.9
6.9
9.8
4.9
2.9
0.8
2.3
0.8
16.7
2017-18
DEN
75
33
49.9
39.6
85.0
2.6
8.1
10.7
6.1
2.8
1.2
2.8
0.8
18.5
2018-19
DEN
80
31
51.1
30.7
82.1
2.9
8.0
10.8
7.3
2.9
1.4
3.1
0.7
20.1
2019-20
DEN
73
32
52.8
31.4
81.7
2.3
7.5
9.7
7.0
3.0
1.2
3.1
0.6
20.0
2020-21

★

DEN
72
35
56.6
38.8
86.8
2.9
8.0
10.8
8.3
2.7
1.3
3.1
0.7
26.4
2021-22

★

DEN
74
34
58.3
33.7
81.0
2.8
11.0
13.8
7.9
2.6
1.5
3.8
0.9
27.1
2022-23
DEN
7
33
58.6
21.1
87.2
2.1
9.0
11.1
8.4
2.7
1.3
2.6
0.6
21.0
Total
534
30
54.3
34.4
83.1
2.6
7.7
10.4
6.3
2.8
1.2
2.8
0.7
19.7